by jen
Is a Will Enough?
Tuesday October 13, 2009
see more by
jen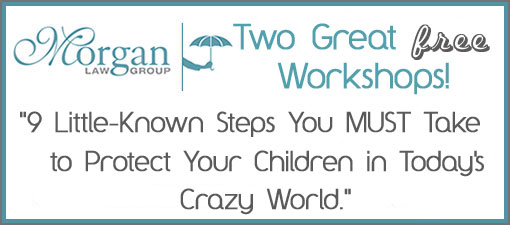 Expert Advice from the Morgan Law Group:   
"It's incredible to believe, but 74% of parents don't have a Will and even those who do still risk their children being taken from their home, at least temporarily, if they are injured or die.  Think about it.  If your children are at home with a babysitter or at school and you are in an accident and can't communicate, the police have no choice but to call in child protective services until they can figure out what to do.  That can mean temporary foster care.
When lawyer (and mom-to-be) Darlynn Morgan, discovered that kids would be taken into the foster care system if their parents were injured or died even though they had a Will, she realized that traditional "estate planning" does not adequately protect our young children.
According to Morgan, a Personal Family Lawyer, "Parents spend time agonizing over who they will leave their kids with when they go to work or when they go out on a Friday night, and yet the majority don't even have a Will; even those who do still risk their kids ending up at the mercy of the foster care system if they are injured or die."
Attorney Darlynn Morgan offers Orange County parents a free workshop that teaches parents "9 Little-Known Steps You MUST Take To Protect Your Minor Children In Today's Crazy World" so that every parent can have the peace of mind of knowing their children would never be at the mercy of our broken State Court system. 

These informative and entertaining workshops will be held at The Little Gym in Tustin this Saturday, October 17th from 4:15- 5:30 and at Bears Buddies & Toys, in Laguna Hills Tuesday October 20th from 10:30a.m. until 11:30  a.m.
Not only is the workshop FREE for all families, but Darlynn has arranged for a limited amount of on-site professional childcare available at the event, so register early.  Registration is required due to limited space; register by calling Ms. Morgan's office at 949.260.1400 or online at www.kidsprotectionworkshop.com.
You Might Also Like