by jen
Skip Hop Diaper Bag at The Land of Nod
Friday October 16, 2009
see more by
jen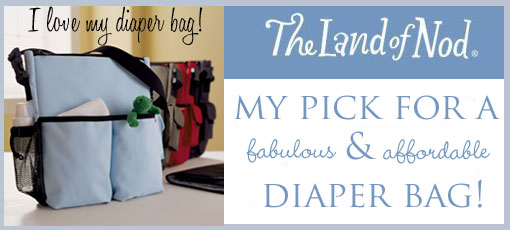 My friend Pam is my mothering guru.  As a mom to three (ages 7, 4 and 2) she has been through it all.   She is my sanity when I am having one of  THOSE days. I can always call her and say "you ever have one of those days/moments when…" and the answer is always "yes!"  Her advice has gotten me through many rough parenting times!
In her 7 years in the mommy trenches, she has been though many diaper bags. Out of all of them, her absolute favorite are the super functional (and pretty reasonable!) Skip Hop bags.   Pam was nice enough to get me one of these great diaper bags as a baby gift for Morgan and I absolutely love it.  That's why it is my #4 pick on my list of "My Top 10 Most Used Baby Products!"
It has large pockets on the outside for easy to access items, a side mesh compartment for a bottle, a rear pocket with included changing pad, two top zipper compartments to secure your keys and wallet, and inside pockets too.   There is also a separate side compartment on the outside made for your cell phone.  This feature to me is key as it always seems like my cell phone can get lost in the abyss of my bag.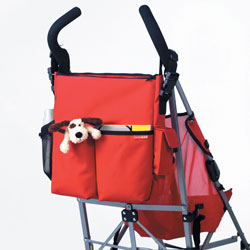 But my favorite feature is the strap.   You can wear it over the shoulder, or messenger style, and the design is made to be placed over the stroller bar.   You can even detach the big strap, and use the included stroller attachments, so that the bag hangs directly on the stroller.   Very easy to get in and out of your bag.  It can be used on single bar strollers or double handle ones like the pic on the left.  Brilliant!
You can buy it at the Land of Nod, it's called  "Diaper Bag # 1 and # 2."   Highly recommend it.  And, at $54, easy on the wallet too!  And, while you are there, make sure to check out their newly expanded baby section!
Happy Friday everyone!
{Tiny Oranges is a part of the Land of Nod Affiliate Program}
You Might Also Like