by jen
The Holidays at Disneyland
Thursday December 10, 2009
see more by
jen

As a local mom blogger, my family was invited to a special event to experience the Holiday Season at Disneyland this past Saturday, and without doubt it is the Merriest Place on Earth!  From now through January 3rd, there really is no place like Disneyland to see the holidays shine any brighter.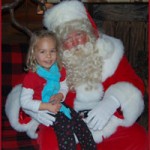 There are so many things to mention, I don't even know where to start!  The highlight of the day for Emma(now 3 1/2) was our visit to the Reindeer Round-Up in Frontierland. Outside Santa's cozy cottage, there were REAL reindeer!  Inside, Santa was sitting by the fire to take pictures with all the kids.  We even spotted Mrs. Claus too!   We first peeked in the exit so she could get a glimpse of him.  He saw her watching and waved and said a little "ho! ho! ho!"  just for her.  She had stars in her eyes she was so excited.   I was surprised it only took about 20 minutes in line.  When we were leaving, my husband's comment was, "that was a REALLY good Santa!"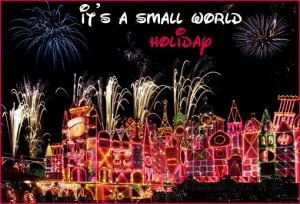 My absolute favorite was  "it's a small world" holiday.  I got to see the ride through the eyes of my 5 month old (her first trip to Disneyland!) and I don't think anything could compare to the look on her face as we made our way through in that little boat!  The ride is completely decked out for the season and merry Christmas carols play for you to sing along to.    You can't help but leave that ride with a HUGE smile on your face!
My husband's favorite of the day was the "Haunted Mansion Holiday" – his favorite ride as a kid.   It's a nostalgic one, isn't it?  Every time I get on that spooky elevator, it brings back childhood memories of visiting Disneyland!   The ride is decked out in holiday spookiness and a snowy graveyard.
We also caught the "A Christmas Fantasy Parade", complete with dancing reindeer, another live Santa and many Disney characters dancing and singing in Christmas themed floats.   I watched some of the audience's reaction when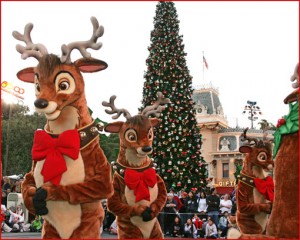 Santa came by waving, and I have to say, even some adults looked like they had stars in their eyes!
We also saw the hand clapping, foot stomping new show called "Tiana's Showboat Jubilee" – a Mardi Gras-style parade and show on the Mark Twain Riverboat in Frontierland.  So cute!
Throughout the park, there are tons of holiday decorations, with the highlight being Sleeping Beauty's Winter Castle and the gigantic Christmas tree inside the main entrance.
We tried to hold out for (what I hear) is the most AMAZING, SPECTACULAR, BEAUTIFUL part of of the holidays at Disneyland – the "Believe…in Holiday Magic" fireworks show which ends with a rendition of "White Christmas" and a snowfall – but after 9 hours both girls were pretty wiped out.   Next year FOR SURE!
Here is a sneak peek of some of the magical holiday fun to be had right now at the Merriest Place on Earth!
You Might Also Like