by jen
Care.com January Promotional Code
Friday January 8, 2010
see more by
jen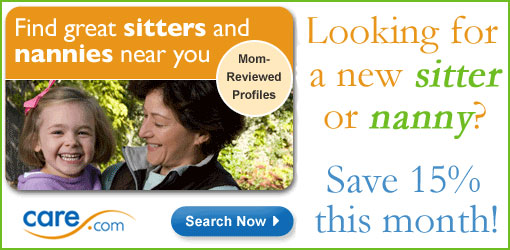 I first found out about Care.com when I was at the park one day.  I struck up a conversation with this darling girl and it turns out she is the full time nanny for one of our neighbor's kids.  Knowing that fabulous nannies can sometimes be hard to find, I asked how they found her and she told me through Care.com.  My interest was piqued so I clicked on over to check it out!
The site is awesome.  You can put in your childcare requirements, set your parameters, and it will pull up matches in your area.   You can even click on a map and see exactly how close each one is to you.  It is fun just to click around on the site and see all the different features they offer.
Basic membership is FREE.  With this you are able to search providers and get general information including a picture, age, rate, location, experience, availability AND access to real reviews based on a "star system!"
Premier membership starts at $30 for one month and includes access to full profiles, contact accessibility, BACKGROUND checks (love this) and references.   When looking for a great sitter or nanny, $30 is a steal if you are able to find a good one!
They have a promotional code for this month – save 15% on your first subscription period by using the Care.com promotional code JAN1015 thru 1/31/10.
Have a great weekend everyone!  Hasn't this weather just been glorious?   Take advantage  and head on over to Fun Orange County Parks to find a fun new park to enjoy the gorgeous weather this weekend!
You Might Also Like