by jen
We Love Sophie the Giraffe
Tuesday February 23, 2010
see more by
jen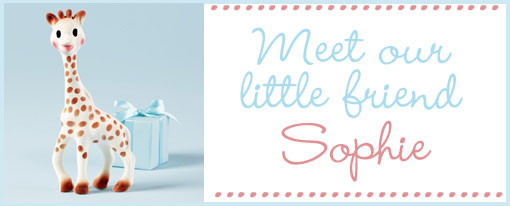 I am slowly making my way through the list of My Top 10 Most Used Baby Items and seeing that I currently have a 7 1/2 month old silly grinning two-toothed baby with more on the way, I have to  include Sophie, the wondrous teether toy!  So, this will have to be my #5 pick!
I was first  introduced to Sophie the Giraffe when I received it as a shower gift for my first baby.   Being a clueless mom-to-be I didn't really understand the reaction when seasoned moms in the room erupted in a collective outburst of excitement about how much they LOVED their Sophies.   I looked at the little rubber, rosy cheeked giraffe and didn't get it.  Yet.
Fast forward 6 months later and seeing my little teething baby gnaw with such joy on her Sophie, I finally got it.   And, I got how you can justify spending roughly $23 on a teething toy.
My friend Jenny got Morgan her very own Sophie the Giraffe as a baby gift and it is her favorite.  I don't know what it is about that giraffe, but she possesses a magical quality of fun and function.  Pick one up as a gift and you are sure to give one of their most used baby items!
{If you consider buying online at Land of Nod Tiny Oranges is an Affiliate – Click HERE for the product link!}
You Might Also Like