by jen
The Container Store Laundry Organization Tips!
Monday May 10, 2010
see more by
jen

I met  The Container Store in Scottsdale last month at the Bosch Home Appliances "From Hamper to Hanger" laundry event where they did a presentation on laundry organization tips.  So, contain yourself. I am about to disclose 5 simple ways to organize your laundry days.  Little things made easier by The Container Store!
1. SORT in the hamper, not on the floor. Use a hamper with different compartments so you are sorting as you go.  These hampers have three separate sections for whites, darks and brights.  Check out this one or this one for great examples.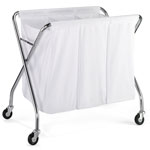 2. GET THE HANG OF IT.   The faster you can get your clothes out of the dryer and on a hanger, the less wrinkled they will be.  Consider installing some sort of hanging device in your laundry room so you can hang immediately instead of piling clothes in the laundry basket.   The ELFA systems have great options.
3. ASSIGN COLORED HANGERS.  Pick a different colored hanger for each family member so you can quickly grab Susie's clothes or Bobby's items and go directly from laundry room to closet.  I personally think this is BRILLIANT!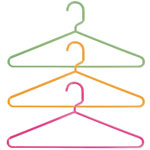 4. DEFEAT THE SOCK MONSTER! How much time do you spend searching for matching socks?  And, where do those missing socks go?   Defeat the sock monster by using these ingenious inventions.  The Sock Cop & Sock Pro products keep your socks together in the wash to save you time!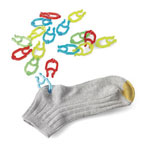 5. ORGANIZE YOUR LAUNDRY STUFF! Short on space?  These cool storage systems keep your detergents, soaps & stain treatment items neatly tucked into vertical, easy to pull out drawers.   Like this idea? They have larger ones to help organize your laundry and help with sorting too!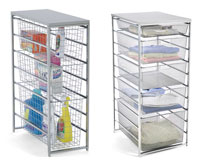 Just walking into The Container Store will make you feel more organized.  Click HERE for store locations or to shop online!
{Disclosure:  The Container Store provided a free item for the bloggers, but none of the above.  I personally shop at and love The Container Store!}
You Might Also Like