by jen
Super Yummy Rolled Turkey Loaf
Monday May 17, 2010
see more by
jen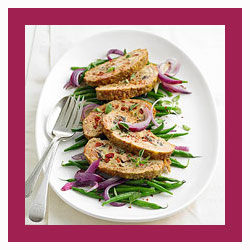 ROLLED TURKEY LOAF
4 oz. regular or turkey bacon
1 cups chopped portabella mushrooms
2 cups mozzarella cheese, cubed (8 oz.)
½ cup oil-packed sun dried tomatoes, drained and chopped
2 eggs, lightly beaten
½ cup chicken broth
1 cups soft bread crumbs
½ cups Romano or Parmesan cheese, finely shredded (2 oz.)
2 cloves garlic, minced
1 tsp. Italian seasoning
1 lb. uncooked ground turkey
8 oz. ground sweet Italian sausage
Preheat oven to 350.  In large skillet cook bacon until crisp.  Remove from skillet and drain on paper towels.  Drain all but 1 Tbsp. drippings.  Cook mushrooms in drippings until tender; cool.
For filling, in medium bowl combine bacon, mushrooms, mozzarella and dried tomatoes; set aside.
In large bowl combine eggs and chicken broth.  Stir in bread crumbs, cheese garlic, Italian seasoning and ½ tsp. salt.  Stir in turkey and sausage.
On heavy-duty foil, pat meat mixture in a 9 x 12 inch rectangle.  Evenly sprinkle filling on meat mixture.  From one long end of foil, begin rolling the meat mixture jelly-roll style.  Transfer the roll, seam side down to a 15x10x1 inch baking pan.
Bake uncovered for 1 hour or until instant read thermometer inserted into the center of the loaf reads 160.  Let stand 10 minutes before slicing.
~~~~~~~~~~~
My mom made this recipe a couple weeks ago & it was soooo good!  It is from Better Homes and Gardens (image too!) but she made a few tweaks.
One more day to enter to win a 2 night stay at the Dana Point Marina Inn!  Get your entries in before 5pm PST today!
Click HERE for more Easy Recipes on Tiny Oranges!
You Might Also Like