by jen
Bosch Vision Front-Loaders
Thursday May 20, 2010
see more by
jen

Last month I was lucky enough to be invited to Scottsdale compliments of Bosch Home Appliances for their "From Hamper to Hanger" blogger event.  While we were there we got introduced to the Bosch Vision front-load washers and dryers and all I can say is Bosch, you really ARE a vision!
When I came home to my not so state-of-the-art front-loaders I found myself having Bosch envy!  They are so beautiful, QUIET, intuitive and efficient, that I often found myself thinking – what will they think of next?  Short of a a Jetsons-like function where the machines actually fold and hang your laundry when it is done, the washers and dryers have capabilities and settings I didn't even knew existed!
What makes Bosch so A-MA-ZING?

First off, the Bosch Vision washers are the most efficient of the full-size machines in the U.S. Meaning you will use less water, much less water, which means less energy per load. In fact, each of their Vision washers offers an EcoAction Option which reduces energy usage by up to 20%!   Bosch was chosen as the 2009 Energy Star Partner of the Year, which to me proves just how committed they are to green technology.
And, did you know that when you purchase an Energy Star appliance you might be eligible for a rebate, sales tax exemption or credit = saved $$$?  You can click HERE to go to the Bosch rebate finder and find out if there are special deals going on near you!
Stop leaks BEFORE they happen! Many laundry rooms now are not stuck in the garage like they used to be. Home builders are incorporating laundry rooms to be a part of your living space, often even on the 2nd floor, where if a leak should occur it would be NOT GOOD as you would be looking at lots of damage.   The Vision 500 & 800 AquaStop Washers are built with a AquaStop leak protection system that eliminates the risk of major water damage. It's essentially a hose within a hose that detects a leak if it should happen and shuts of the water supply. SMART!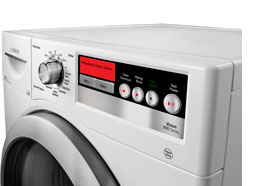 The OPTIONS.  Oh my, THE OPTIONS.  There are endless settings and options.  They are truly visionary. The washers (depending on model) offer between 11 – 15 wash cycles for complete cleaning of various loads. From an Allergy Rinse option (seriously!) that removes any trace of detergent to a Handwash cycle for the most delicate fabrics. No more hand-washing EVER!  Woo hoo!
The Stain Removal option is unique to the 500 and 800 series and targets the widest variety of stains in just ONE cycle, engineered to treat stains by utilizing a gradual increase in temperature.
All the washers are engineered as well with the AVS Anti-Vibration System for near silent, smooth operation.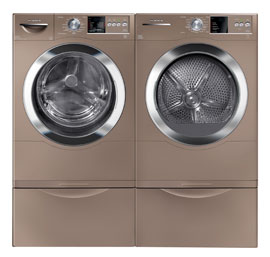 First off, how COOL is that color option to the right? Love it! Now on to the Vision dryers, where EcoSmart technology features an intelligent network of sensors making Bosch one of the most efficient dryer brands and reduces energy usage by up to 10%!
Again, it's all about having options.  The stainless steel drum gently dries clothes using moderate heat and high air volume to protect the longevity of your clothes.
Options range from WrinkleBlock which tumbles 1 – 3 hours depending on model to prevent wrinkles.  There is also the Delicates option to which allows you to dry items usually only line dried! LOVE this one as I dislike "laying flat to dry" so very much.
The 500 & 800 series even have 3 steam wrinkle settings: Winkle Relax, Steam Refresh and Steam Touch Up, where you can utilize steam to freshen up clothes or work out wrinkles instead of putting them through an entire wash and dry cycle.
Bosch truly blew me away in every aspect of this trip and by the QUALITY present in everything they do.  From the professionalism of their employees and representatives to their state-of-the-art showroom to their ingenious engineering – it all all shows a dedication to providing you with the best quality machines and a commitment to the environment.   It was really love at first sight.  Now I just need my washer to break…(don't tell my husband I said that!!)
{Disclosure:  My entire trip to the blogger event was paid for by Bosch but this is not a compensated post and the opinions are all my own!  And NO, I did not receive a free Vision washer & dryer, but a mom can dream, can't she?!}
You Might Also Like