by jen
Morgan Law Group Upcoming Events
Thursday July 1, 2010
see more by
jen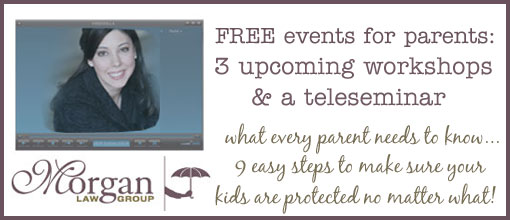 Darlynn Morgan of the Morgan Law Group is having three upcoming FREE events and a teleseminar so you can learn more about what it takes to make sure your kids are legally protected. The event is titled, "9 Easy Steps To Make Sure Your Kids Are Protected No Matter What" and will be held at three different kid-friendly locations in OC in July.
To make learning the 9 steps easy, fun and friendly, they have hired childcare, so you can bring the kids. They'll enjoy play time for FREE while Darlynn takes you by the hand and personally shares with you how to make sure your kids can be totally protected, if the unthinkable should happen to you.
Registration is required so go online to www.kidsprotectionworkshop.com or call 949-260-1400 today!
Tues., July 13th, 1045am – 1200pm
Bears, Buddies & Toys
27911 La Paz Rd, Laguna Niguel
Wed., July 14th, 1045-1200pm
Bounce U
5445 Oceanus Dr., Ste 115, Huntington Beach
Sat., July 17th, 1015am-1200pm
Bounce U
428A W. Katella Ave., Orange
They are also offering a teleseminar for parents who can't make it to the events. The teleseminar will be held on Thursday, July 15th 8pm-9pm PST, from the comfort of your own home.
Registration is still required to get the call-in details. Register online through the link below!
www.kidsprotectionworkshop.com
Disclosure: Morgan Law Group is a Tiny Oranges Sponsor.
You Might Also Like