by jen
A Cute Way to Capture Your Child's Words
Thursday August 12, 2010
see more by
jen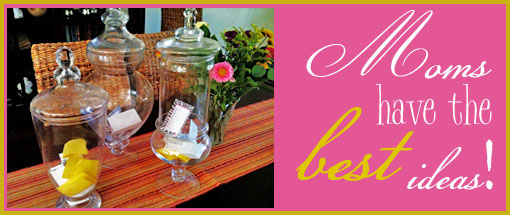 Moms have the best ideas. I went to a friend's house for a play date yesterday and on her dining table she had these darling glass jars with notes inside.   On each note (with the date) was a "sentence" or "saying" or basically something her girls had said that she would want to remember.  I thought what a cute way to capture your child's words!
I can't tell you how many things I WISH I had written down that I didn't. i was so good with Emma's first year, then after that I feel like all my documentation went out the window.
With this idea, you don't have to dig out your baby book or search for somewhere to write it down.  And with the pretty display containers, these special sayings become a part of your family decor.  I love it. I am going to do one for each girl.
Just the other night Emma and I were looking at the sky, and the first star came out, so we did "Star light, star bright, first star I see tonight, I wish I may, I wish I might, have this wish I wish tonight."  And she said, with grand gesture, "I wish for a huge birthday cake that reaches from here to the sky and for all my friends to come eat it!"  Now that would be one for the note cards!
Thanks Susanne for the amazing idea!
You Might Also Like