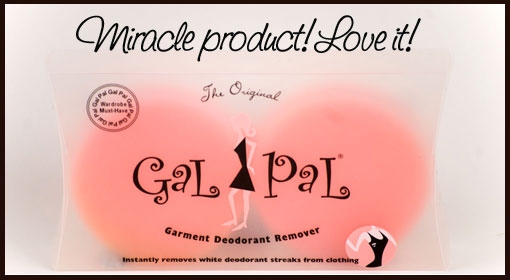 After buying and using the Gal Pal Deodorant Remover Pads, I almost feel cheated I have gone for years fighting the white deodorant streaks on my dark tops without this product.  These are a MUST buy! Like today.  So here is my review of this fabulous invention!
You know the deodorant streaks I am talking about, right? So annoying.
It always seems to happen when I am rushing to get out the door when I notice I have white marks down the sides of my dark shirts. I will try to get it out by wetting a towel and trying to rub it off, but what I usually end up with is a wet shirt and the deodorant still visible.
I have seen the product at The Container Store lots of times.  It always catches my eye with the cute logo and font. Then last spring when I went to the Bosch blogger event and heard a presentation from The Container Store, the woman brought in the product as well and raved about how well it works.
I don't know what on earth took me so long to buy it, but I finally got around to buying a pack of Gal Pals at The Container Store last week,  and then it happened to me last Sunday morning before church. I put on a black tank and looked under my arm and there were a bunch of yucky white stripes.   Then I remembered my Gal Pals and I was excited to have a real life deodorant streak situation to test them out on!
The pads are like a loofah pad sort of thing and all I did was rub it on the streaks, and the deodorant came RIGHT off!
It worked so well I thought this is a miracle product! It was Sunday morning, after all, so I felt like yelling "hallelujah!"
Seriously amazing product. You won't believe you lived without it before either!