by jen
ABC Pilates Grand Opening Celebration
Tuesday October 5, 2010
see more by
jen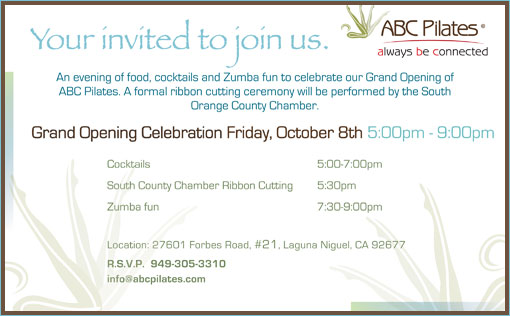 ABC Pilates in Laguna Niguel is celebrating their move to a new, bigger studio which means more space, more classes and more fun with a grand opening celebration this Friday night, October 8th, 2010 from 5:00-9:00pm.
The event kicks off with cocktails and a ribbon cutting then a Zumba dance party at 7:30pm.  Have you ever done Zumba before?  It is a BLAST!  So fun to mix it up and try something new to add to your workout regimen. However, I have never done a Zumba class after a cocktail, but I have a feeling that actually might help with my dance ability…Ha!
So grab some girlfriends and head on over for a fun evening out!
27601 Forbes Road, Suite #21, Laguna Niguel 92677
RSVP 949.305.3310 / or email info@abcpilates.com
And, in honor of their grand opening, ABC Pilates is offering a killer deal of $50 for 6 specialty classes including TRX, Zumba, Mat, Yoga, Pilates Barre and Bootcamp.  Amazing deal and super fun classes.
Mention Tiny Oranges and also receive a free burpie or onesie AND a 45 minute private intro session when you purchase a package deal!
They also now offer KIDS CLASSES for those of you wanting to get a workout in but worried about what to do with your little ones.   The kids classes are for kids 2 – 5 yrs offered on Tuesday, Thursday and Friday at 10:30am.  Cost is $15/child.
If you haven't done Pilates before, it is THE MOST AMAZING workout.  It works every single muscle in your body and will leave you feeling stronger and healthier.
{Disclosure: ABC Pilates is a Tiny Oranges Sponsor}
You Might Also Like