by jen
Hand Washing Song for Kids
Wednesday October 13, 2010
see more by
jen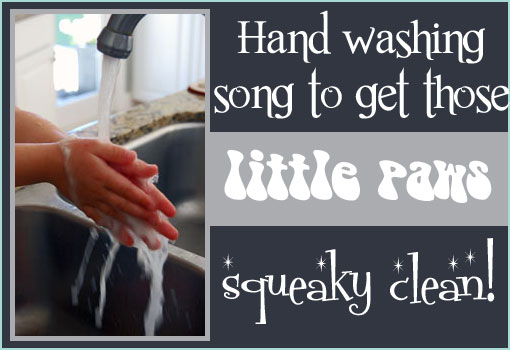 I am a germphobe.  I wrote about it here.  So I am big on hand washing. I wrote a post last year on "Proper Hand Washing Techniques"  and the number of Google searches using the keywords "hand washing" & " proper hand washing techniques" landing on that post have really ramped up recently which is not surprising since we are now entering cold and flu season.   So seeing that I am not the only one interested in washing hands (WELL) I had to share this AWESOME hand washing song for kids my daughter learned at preschool (and it is not to "happy birthday" or the "ABC's!)
I overheard her singing it one day and when I had her do it louder for me and she demonstrated her new hand washing skills, needless to say, I was thrilled!  Mostly because the words go with the actions and it sort of makes washing hands just a little more fun.
It's not an original song, I mentioned it to some mommy friends, and they told me they had heard it on one of the preschool channels, but I have't heard it on TV before.
It's to the tune of "Frere Jacques" or in English, "Are you sleeping, are you sleeping Brother John." I found this site where you can click and hear the tune.   Here it is….
Top and bottom
Top and bottom
In between
In between
Rub them all together
Rub them all together
Squeaky clean
Squeaky clean
So for the first line, the kids are rubbing the soap all over the tops and bottoms of their hands, then the next verse they are lacing their fingers together and rubbing them, then they are just rubbing the soap all over their hands for the last two versus. 
Have a squeaky clean sort of day!
You Might Also Like