by jen
My Personal Picks for Running Gear
Thursday October 14, 2010
see more by
jen


I am running the Long Beach Half Marathon this Sunday and as I have been suiting up for my long training runs the past month, it has sort of amused me how much GEAR I have acquired when I am in my full running uniform! More miles = more gear!
So I thought it might be fun to share some of my personal running fear, I mean running gear. I am cracking up at that unintentional typo, but I am going to leave it because it is making me laugh AND it is poignant.
Poignant because when I was training for my first half marathon last May, I WAS filled with lots of running fear. In fact, the fear is what motivated me.  13.1 looming over your head tends to be scary to a new runner.
But this half is going to be so much different I think.  Best part is that I am more excited than scared this time around!
I have trained for this one with one of my best friends Pam and we will be running together. Our long training runs on the weekends are more like therapy.  And we support each other during the tough spots.  Each of us has been known to say, "I don't think I can do this" and no matter what the other is feeling, the other always says "yes we can!"
Secondly, the last 6 weeks, I have been doing pilates twice a week and training with Erica from Core Athletica on the reformer and it has made a tremendous difference in making me stronger.  It has also made me less sore by strengthening the muscles that are neglected by just running.   Amazing results. LOVE it!  Another post on pilates to come!
Lastly, Pam and I are driving ourselves straight to Pure Blu Spa at the Newport Beach Marriott to spend the day after the race.  We are going to get massages, sit in the jacquzzi and then collapse on a lounge chair for the afternoon.  The thought of a rewarding spa afternoon in itself is motivation to get through those 13.1 miles!
So this is my uniform for Sunday, head to toe.  If there are other runners out there, please feel free to share some of your favorite gear too!  I love to hear other's favorite picks!
1. Shoes – I did that Shoe Dog analysis at Roadrunner Sports to get my shoes. I ended up in this model from Brooks.  Been a good fit.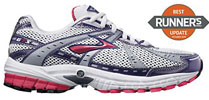 2. Who knew the type of sock mattered? I didn't when I started but after a bout with bad blisters, I found out  it does.  These socks are my favorite, again from Roadrunner Sports.
3. Good ole' fashioned Vaseline.
Since we are on the topic of blisters, I got horrendous blisters on my toes while training for my first half.
Ever since, I slather my entire foot and between each toe with Vaseline before long runs and I have not had a problem since.
4. Lululemon Tracker Short.  I dedicated a whole post on them here, total lovefest  and 5. Lululemon Cool Racerback Tank. Love these tanks because they are LONG, soft, seamless and wear really well.  Worth the money!  I wear them for both pilates and for running.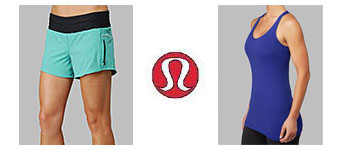 6. Champion Jog Bra, can't find the exact one online. But a good fitting, supportive jog bra is key!
7. FuelBelt Helium 2 Bottle Belt
– When you are running for longer than 45 minutes or an hour, good HYDRATION IS ESSENTIAL.   This has been a tough lesson for me and is not something to mess around with!  When I run over 6 miles, I always run with this water belt.  It takes a bit of getting used to, but I like it is handsfree.  Plus it has a little pouch for storing my Gu's.   You should be drinking 6-8 oz of water for every 20 minutes when doing long runs.  I would get terrible post-run headaches from not being hydrated enough before I figured out it was dehydration.  As soon as I WAY upped my water intake, the headaches went away.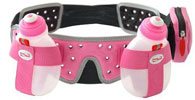 8. Gu Energy Gel – Again, keeping your body hydrated and fueled is important on longer runs.   I eat a Gu every 45 minutes on long runs.   They have some with and without caffeine.  My favorite flavors are vanilla bean and chocolate outrage.  The chocolate sort of tastes like frosting out of a tub!  Not great, but tolerable, and I always feel like I have more energy after I "Gu" on my runs!

9. iPod Shuffle – Having great "pump you up and inspire you music" is always important!

10. Garmin Forerunner 205
My neighbor who is a marathon runner has been nice enough to loan me her Garmin for my past two training sessions since she is not currently training.   Once you get used to training with one of these watches, it is hard to train without it!  It tells you your distance and your pace.
11. Roadrunner Visor – I like wearing something on my head to keep the sun out of my face and bangs out of my eyes. I love this visor because it is super lightweight & cool.  Temperature cool, not trendy cool. Hee hee… and it's only $10.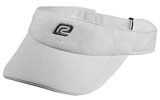 12. SPF!!! I never leave on a run without my SPF.  My top picks are the Yes to Carrots Pomegranate Lip Butter with SPF 15 and Nature's Gate Sport Block Sunscreen Lotion, Dry Finish, SPF 30, 4-Ounce Tubes (Pack of 3)
which is fragrance-free, paraben-free & sweat resistant.  Not to mention I scored it at the 99 Cent Store for $1!
Lots of this stuff isn't necessary until you are training for longer runs, so it was nice to be able to slowly acquire things as I needed them and figured out more what I was doing.  Running has been such a NEW experience for me.
One year ago I was sitting here with a 3 month old colicky newborn with reflux.  If you would have told me this time last year that in one year I would have run two half marathons I would have thought you were on crack.   I had never run in my entire life.
My point is not "yay me" (barf), the point is, if I can do it, ANYONE CAN. And it will change your life.
XOXO
{Disclosures…None really as I bought all the stuff myself but I WISH Lululemon WAS a Sponsor! I am signed up with the Amazon Affiliate program.   I won a gift certificate to Pure Blu Spa so I will use that (so nice) and Erica from Core Athletica is becoming a Sponsor and I will be writing more about her and her training in the future!}
You Might Also Like