by jen
Wendy's New Pick 2 Menu & Giveaway!
Monday October 25, 2010
see more by
jen

Warning:  This post might make you hungry.
Last week I was invited to be a part of a blogger event at Wendy's to sample their tasty new Pick 2 Menu. And Wendy's was kind enough to give me a gift card to give away to one of my readers so you can take your family to lunch too. Read below on how to enter to win.
What intrigued me about this menu is that the concept starts with a half portion salad.  I love the idea of a HALF portion salad, especially if you are watching your health and calories.
Here is how the Pick 2 Menu works…
First you pick your choice of one of their fresh, half portion salads.  The choices are: Apple Pecan Chicken, BLT Cobb, Spicy Chicken Caesar or the Baja.
Then you pick your second of the Pick 2 options: a yummy baked potato, tasty chili, Wendy's famous small frosty (some admitted on Twitter to dipping fries in their frosty!), bottled water, a jr. bacon cheeseburger or a chicken wrap.
I selected the Baja salad..
…because I LOVE a Mexican inspired salad.  It came with jalapeno ranch dressing on the side, but with the guacamole included, I didn't even use (or need) the dressing and I liked that the spicy tortilla chips came separately.  You can toss these on top for some good crunch.  For a fast food salad, I was really impressed!
I also love that you can download the easy-to-read nutrition facts HERE.  The half Baja salad is 280 calories.  I didn't use the dressing (add 100 cals) but I did put the chips on top (+80 cals), so 360 calories for a filling fast food salad with 17g of protein I think is pretty good.
Then since it was a rainy day, I chose the Rich & Meaty Chili as my second pick.  SOOOOO good!   I sort of wished I had also ordered fries to dip too.  But that would be pushing the calorie count up for sure!
We were able to "Pick 2" friends to go with us, so my wonderful photographer friend, Kristin Eldridge joined me.  Here she is placing her order…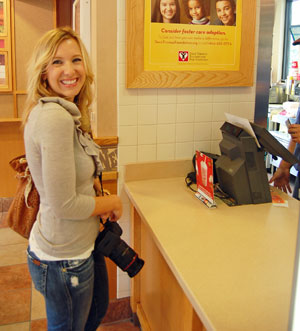 She opted for the Apple Pecan Chicken and although I loved my Baja, when I go back I will definitely be choosing that one.  But I will probably hold the bleu cheese, as I am not a huge bleu cheese lover.  She said the salad was really good!  Isn't this a beautiful picture of this salad?   Kristin can work her magic on any subject!
There are 28 combos available in the Wendy's Pick 2 menu all for $4.99. Of the 28 combos, 18 are 600 calories or less. The half portion salads are also available as stand alone menu items for $3.99.  The combos strive to be a healthy balance of fruits, veggies, nuts, dairy and protein.
The Apple Pecan Chicken half salad has 180 calories, add the roasted pecans on top (+ 100 cals) and the Pomegranate Vinaigrette Dressing (+60 cals).  So all in, a salad with 340 calories.  Not bad!
And, as a mommy with a newly diagnosed child with a milk and eggs allergy, I also love that the nutrition chart makes it easy to find things without dairy.
Overall, I thought the options were really great, and if I am needing to do fast food, I will definitely consider going through Wendy's to pick up an Apple Pecan Chicken Half Salad and Bottled Water.   Healthy food on the go – now that's refreshing!
One lucky winner will receive 2 gift cards of $7 each ($14 total to take your family) to enjoy a meal at Wendy's! Contest runs through 10/31/10 at 5pm PST.  I will post the winner next week on my Facebook page.    To enter, please leave a separate comment for each entry.  And, please leave your email address in the comment (won't be published) so I can contact you if you are the winner!
1. Simply leave a comment and tell me: which combo would you choose? – 1 ENTRY
2. Like Tiny Oranges on Facebook – 1 ENTRY
3. Follow @TinyOrangesOC on Twitter – 1 ENTRY
4. Subscribe to my feed or email updates – 1 ENTRY
5. Tweet about this giveaway & link to this post with hashtag #WendysPick2 – 1 ENTRY
6. Comment, post or respond in my Forum – 1 ENTRY
GOOD LUCK!
Special thanks to Kristin Eldridge for taking most of the great pictures in this post.   Click HERE to visit her site and see more of her beautiful work.
Wendy's Pick 2 Bloggers…
Sitting left to right: Nine More Months, Daytripping Mom, Me
Standing left to right: Rockin Mama, Traded My BMW for a Minivan, OC Mom Activities, Thoughts of a Mommy
{Disclosure: This event was sponsored by Wendy's and The Motherhood and I was compensated for my participation in this campaign and received complimentary lunch at the event.}
You Might Also Like