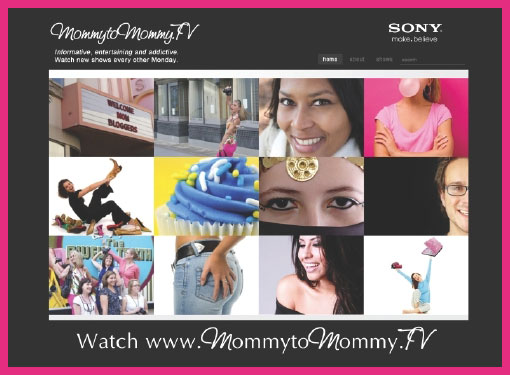 This is a very exciting post for me as I have a very fun announcement to share with you!
Whenever a fellow mom says she has an "announcement," I know the first thing that can come to mind, so NO, I am NOT pregnant!  But I am excited to share the launch of a new online show for moms called MOMMYtoMOMMY.TV which I am sure will have webisodes dealing with pregnancy (just not mine) as it is a show exclusively for MOMS!  Here's a little about this innovative new program…
The Internet is full of places where parents can go to find advice and ideas, but with so much information out there, it can be hard for mom's to find one place that covers the hot topics that they actually want to hear about.
Kimberley Clayton Blaine, a popular mommy video-blogger and America's favorite Go-To Mom (and founder of www.TheGoToMom.TV), announced yesterday a new series of unique online programming exclusively for moms called MOMMYtoMOMMY.TV!
Twice per month, Blaine (who produces and hosts the show) will team up with a different momblogger, mompreneur or celebrity guest to deliver info-tainment on the featured topic.  Now do you know why I am REALLY excited?
With its fast-paced style, the show is designed to entertain and inform moms about the things they care about most. The show will focus on relationships, health, child-rearing, social media, along with product highlights, services, and news to improve the quality of life for moms.  No topic will be left uncovered!
What's more? Blaine has teamed up with Sony to inform moms of the latest and greatest technology so that they won't miss one minute of those precious family moments.  With webisodes featuring great innovative new products like Sony® α (alpha) cameras, Bloggie™ HD MP4 cameras, Cyber-shot® cameras and Handycam® camcorders.
With celebrity guests, technology how-to's, great advice, and a fascinating behind-the-scenes look at how a show like this is made there's something for everyone at this new online community that is created by Moms for Moms. Be sure to take a peak this month at www.MommytoMommy.TV!
I was SO honored (and honestly a little shocked) to be asked to be one of the co-hosts of an upcoming show!  I even have my own "Jennifer" badge, so I guess this makes it official!
We get to tape my upcoming webisode at the gorgeous Montage Laguna Beach – not a bad place to spend the day – WOW! And Kimberley is so much fun to be around, I know we are going to have a blast.
So STAY TUNED and TUNE IN. I know you are going to love the shows!
Have a great weekend everyone!  See you back on Monday!
XOXO Jen
{Special thanks to www.kristineldridge.com for my badge photo!}