by jen
4 Easy Steps to Naming Guardians for Your Kids
Thursday November 4, 2010
see more by
jen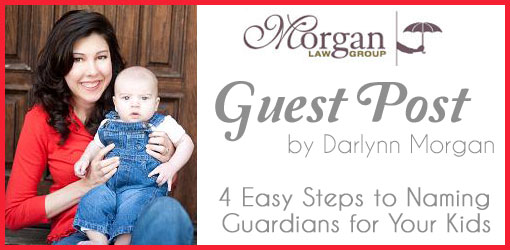 This is a great post with some really, really great information on one of the most important things we need to do for our kids:  clearly state who we would want to be their guardians, you know, just in case.  Darlynn Morgan is a local OC estate planning attorney (and OC mommy – that's her with her little tiny orange!) who specializes in helping you get everything you need to in order so your kids are protected.
If you want to learn more, her next free teleseminar (=call in for free from home in your jammies!) will be held on November 17th at 8PM.  Click HERE for more info and to register online.   Here is what she wrote…
4 Easy Steps to Name Guardians for Your Kids If Something Happens To You
By Darlynn Morgan
As an estate planning lawyer, I know one of the most important decisions a parent can make is determining who will care for their kids if something tragic happened to them. I also know it's very easy for parents to get stuck during this critical decision making process.  Do you choose this person for financial reasons? Religion? A certain parenting philosophy? Do you care if the couple you chose stays married or eventually gets a divorce? Then what?
While it's great to put a lot of thought into who you would want to raise your kids, indecision and ultimately inaction is a very dangerous place to be, especially with young children at home. It's important to remember that SOMEONE will determine what happens to your kids….so it might as well be you!  The alternative is a judge who knows nothing about you, your family or what truly is in the best interest of your children.
So to avoid having a judge make life-changing decisions on your child's behalf if something unexpectedly happens to you, I would like to share four easy steps that will help you finally take action and choose the right guardians for your kids:
1. Sit down and brainstorm all the people who could possibly raise your kids if you were killed or incapacitated in an accident. Don't limit your choices to family either. Think outside the box and write down everyone who even remotely fits the bill.
2. Determine who you would NEVER want to raise your kids in your absence. You'll need to tell the court who you DON'T want raising your kids so they can protect your family should that named individual (s) contest your wishes and seek custody of your kids following your death or incapacity. (This can be kept private and only revealed if the need arises).
3. Weigh your values. Make another column and write down what is important to you and/or your spouse.  Do you value education?  Religious or spiritual training? The ability to live in a certain community?  Being raised in a two-parent family?  Whatever your values may be, be honest about them, write them down, prioritize them and eventually rank the top three.
Match your top choices to your top values. This will give you a clear picture of who you can trust to raise your children with the values you hold near and dear to your heart.
And of course, the last (and arguably the most important step) is to legally document your choice of guardians so there's no question as to who you want to raise your kids if something happens to you!
This part can be tricky, but you can do it with a bit of education and know-how on the subject.  To help make this step easier for you, I'd like to invite you to a FREE teleseminar I'm hosting where I will personally hold your hand and teach you how to name guardians for your minor children.  On this call you will also discover:
·      The 9 simple steps you can take immediately to ensure the safety and care of your children …and why the police could take your minor kids out of your house if you are in an accident and don't plan the right way.
·      And why these 9 simple steps aren't something you "do" once and then never look at again…and the rock bottom bare minimum your plan must be reviewed to ensure the safety and security of your kids.
·      You'll learn how to avoid the expenses and delays of a long, drawn-out court process that would make life difficult for your loved ones if you were in an accident.
·      How to avoid the 6 common mistakes parents make when choosing a Guardian for their minor children.
·      You'll discover how to make sure your hard-earned money is immediately and privately available to your chosen guardians……and much more!
The information you learn on this call will literally save you thousands of dollars in legal fees (not to mention years of headaches if something happens), so get the details and register at www.kidsprotectioncall.com.
Remember, an hour invested in learning how to protect your kids could result in a lifetime of security for them if the unthinkable happens.  So I encourage you to join us at on one of the dates and times available to ensure your kids are protected and cared for by the people you want, in a way you want….no matter what!
{Disclosure: Morgan Law Group is a Tiny Oranges Sponsor}
You Might Also Like