by jen
Fall to Winter Fashion Must Haves
Wednesday November 17, 2010
see more by
jen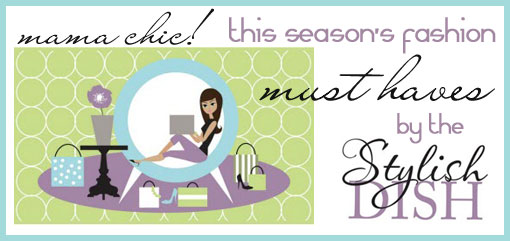 I feel sort of fashion challenged these days and need all the fashion advice I can get!  So when I discovered this amazing local fashion blog, Stylish Dish, written by a fellow OC mommy, I was immediately drawn to it because her styles and features are not only SUPER cute & fashionable but also affordable!
Seeing that I loved her style, I asked Michele to shop and style me for my recent MommytoMommy.tv gig and she found me the cutest ensemble at Loehmann's. What I loved is that she pulled pieces for me that I would have never thought of, but I absolutely loved.  And, Stylish Dish will soon offer personal styling services (virtual/online and live).  Stay tuned!
When we were shopping, I said, "Michele! Can you please write me a guest post on this Fall (and now Winter!) fashion must haves? Pieces that every chic mama should own this season?"  And she went ahead and put together this ROCKIN guest blog with links!   What I love is that the items are REALISTIC. Everyday things we can wear for real.
Here is what she wrote…
"OK, so we are all moms, no one has to remind us of that.  But, do we have to look like moms too? Heck no!
Now, I will admit, the "mom look" has changed A LOT since we were kids. Just cruise through Fashion Island on a weekday around 11 and that point will be crystal clear. Moms aren't sporting "wash and wear hair", terry cloth jump suits, and rollers nowadays…at least not in Orange County.
But, if you are like me (a mom with things to do, a budget, and rambunctious offspring) it is hard to be comfortable yet stylish as you go about your day hanging with/chasing after your kids. A big part of the problem is…no time to shop and  no time to peruse fashion mags for the latest and greatest, and…no time to eat, no time to breathe…oh but I digress.
So, at the request of the fabulous Jen of Tiny Oranges I have put together a collection of Fall to Winter must haves for the stylish OC mama (or the OC mama who craves a little style — to-may-toe, to-mah-toe).
Most of us are familiar with a cardigan — who isn't?  Even our grandmas still pull out a twin set here and there.  But, mix it up by getting one in a great color or animal print like the one pictured from J Crew and you have a statement piece that is easy to wear.
Jeans are always a staple, and you can't go wrong with dark jeans.  I particularly love this pair of Hudson jeans.  Versatile and not so low that you are "cracking" a smile for all the other moms at drop off.
Now if you just want to get away from jeans (and you should!) corduroy is the way to go this season. (Slim cargo pants too!)  Forget the myth about starting a fire between your thighs in cords if you don't have rail thin legs.  Cords that fit well (not too tight) in a dark color (like the rich brown pictured) can flatter a variety of body types. This pair of NOLITA corduroys
is a great option.
A great casual jacket is a must have staple. Think fitted, belted, and possibly military-inspired.  The
Sanctuary Belted Uniform Jacket
pictured above is all three.
What to wear under a jacket or cardigan? Throw in a feminine touch with ruffles like this ruffled cami from Urban Outfitters.
There are a TON of cute heels this season (booties and suede pumps in jewel tones are my current favorites) but how many of us pick up our kids in 4 inchers?  Riding boots add style to any outfit (even just jeans and a tee) and flats are a must have. I love (and bought) this pair of Miz Mooz King Riding Boots.
I am 5'11" and never warmed up to flats until recently, they were never very cute or stylish.  Now there are so many great flats to choose from like these Dark Pewter Leather Flats from Bandolino
.
I always suggest going with one "super trend" item per season. My favorite right now is the fur vest. Stylish, edgy, and, best of all, cozy! The Jack by BB Dakota Janika Vest
pictured above (faux fur, of course) will not break you bank.  And, it can be worn casually, just let your style, judgement, and confidence be your guide.
Last but not least, accessories! All types of jewelry are trending right now including large statement pieces and cocktail rings. I am loving the look of strong, modern, metal pieces like the link bracelet and
Bronze Erin Wasson Cutout Necklace
pictured.
The above pieces are all under $200 (some well under) and can be mixed, matched, and worn with the current pieces in your wardrobe. Visit www.stylishdish.com to find fabulous, affordable fashions by occasion. – Michele"
Thanks so much Michele.  I am for SURE getting those riding boots!! Love!!!  Make sure to bookmark her blog as one of your favorites.  You will love the REALISTIC fashion inspiration!
You Might Also Like