by jen
The Holidays at South Coast Plaza
Thursday December 2, 2010
see more by
jen

I love Orange County all year round, but I especially love OC during the holidays because of all the fun family- friendly events!  A few weeks back I was invited to a media event at  South Coast Plaza to check out all the festivities they have going on this month to celebrate the season and I wanted to share with you!
South Coast Plaza is one of my favorite outings for the girls.   I especially love Crystal Court because it's quaint, easy to park and is home to Ruby's Diner, which I think is the most family-friendly restaurant in Orange County!  I also have a soft spot for Ruby's as I wore those pinstripes myself when I worked there during college, um, just a few years ago. Hee hee…
For those that are not as familiar with South Coast Plaza, Crystal Court is across the street from the main mall in the Crate & Barrel / Macy's Home Store wing.
Our group of mommy bloggers, kids in tow, met at Crystal Court and started off the morning with breakfast at Ruby's. Ruby's recently underwent a big renovation, so this was my first visit post face lift. Wow!
It is GORGEOUS…
And I know when you think of Ruby's, you probably think of burgers, fries and milkshakes, but let me tell you, they also serve breakfast and it might be one of my favorite breakfast spots ever. I fell in love with the Cinnamon French Toast back in 1995, so we go waaaayyyyy back!  Ohhhhh…so good!
I was trying to be "good" that day so I ordered the Skinny Tacos, which were whole wheat tortillas filled with a scrambled egg & cheesy mixture so good I had to question the "skinny" part.
These are also not skinny but so delicious they are worth the calories!
Oh, the beignets…
And, did you know that kids eat free at all Ruby's every Tuesday after 4pm (when you purchase an adult meal)?
Here is my own personal Ruby's diner, Morgan, my date for the event!
Now that we were fed and happy, our next stop was The North Pole where we went to have our picture taken with Santa Claus.  Fun fact alert! Did you know ALL Santas in South Coast Plaza have real beards?! I don't know why but I loved this little tidbit of South Coast insider info.
Santa will make an appearance both at The North Pole in Crystal Court and in Santa's Village in Carousel Court in the Main Mall now through December 24th. All kids will receive a complimentary Santa's Express Train ride with any Santa Photo purchase.
Morgan was SO scared of Santa this year.  I told him not to take it personally!  I had to sit with her.  Look at her poor little face in this picture post-tears.
But do take a moment to admire Santa's beard…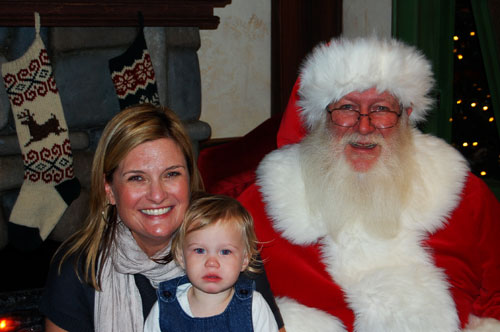 After our Santa pic, we headed over to Santa's Express Train on the second level which will be giving rides now through January 3rd.  It is the perfect size for little pint sized humans.  It sort of cracked me up because it seemed to go FAST! The kids were loving it, totally mesmerized by the huge tree they were circling.
At both Crystal Court and the Main Mall, they also had various craft stations where kids could make holiday crafts (prices vary.)  Here is a pic I snapped at one such spot…
From there, we walked over to the main mall via the Bridge on the 3rd level (only about a 5 minute walk) and headed down to Santa's Village which is MIGHTY impressive!
Quite the set-up for old St. Nick…

And next to his house you will find the regular carousel we normally love year round transformed this month into the the REINDEER Carousel! The Reindeer Carousel will be spinning now though January 2nd.  Children ride for only $1 and Carousel Express Cards can be purchased for $5, $10 or $25 and would make for a super cute stocking stuffer!
And you can't miss the balloons! Just a random note, from experience, if you purchase one of these helium-goodies, they will seriously last like 4 weeks (probably longer than you want- ha!)  Basically, you will definitely get your money's worth!

South Coast Plaza is really buzzing with holiday cheer this time of year, so take your kiddos and make a day out of it and get some of your holiday shopping done at the same time!  You will even find live holiday entertainment now through the 24th performing throughout the shopping center.  And, complimentary cocoa and hot cider will be served on weekends until the 24th in the Garden Terrace if you want to take a break from your shopping.
Thank you South Coast for such a brilliant morning!  I hope all my readers get to experience your festivities firsthand this year as well!
{Disclosure: We received food & festivities complimentary as a part of this review.}
You Might Also Like