by jen
You can't go wrong with a Montage gift card.
Thursday December 9, 2010
see more by
jen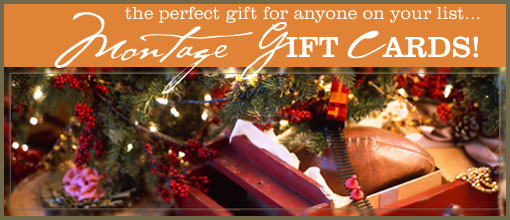 My husband is a little challenged in the gift giving arena.  I wrote about him here.  Which is funny to me because women seem so simple to buy for! Am I right ladies?
To me, there are a handful of things that most women would love on any special occasion. And one of these things is some sort of gift card to be used for a little guilt-free pampering. To me, that gesture says, "you deserve it mama!"
So if you are in the need for a gift for special someone in your life this holiday season, consider one from Montage Resorts, which really is the ULTIMATE gift card to receive!
There are several unique things about their gift cards, allow me to highlight for you…
1. They have made it so simple to do online. Click HERE to go to the gift card page with all the info on ordering.
2. Your recipient can use the card however they'd like to… for a spa or salon service, fine dining for a special meal, or to be put towards a stay for a weekend getaway.
3. The recipient can use the card at any Montage property! Whether they are looking for an urban escape in the heart of Beverly Hills or a seaside retreat in beautiful Laguna Beach – they get to choose!
4. You can register and protect your card online so that you never have to worry about a misplaced card.  Although if I was lucky enough to receive one of these gift cards I might sleep with it under my pillow.
So ladies, if you have a hubby like mine, you might want to accidentally forward this post as a little *hint.*  Or leave it up on your computer so when he checks his fantasy football scores he can get Montage on the brain. Subliminal hints never hurt.
Happy holidays friends! I hope Santa has one of these little cards under the tree for you this year…
{Disclosure: Montage is a Tiny Oranges Sponsor}
You Might Also Like