by jen
How will you make a difference in 2011?
Thursday December 30, 2010
see more by
jen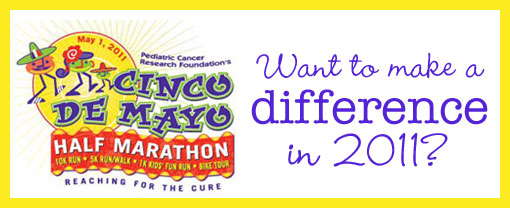 Tomorrow is the last day of 2010. WOW.  For me this is always a time on reflecting on this past year and looking ahead to the things I want to accomplish in the new one.
If you are in the same mode and want to do something to give back next year – I urge you to consider putting getting involved in our Tiny Oranges PCRF Run/Walk team on your list!  There are several different ways to get involved. You can register anytime, but registration fees go up after 12/31, so if you are considering it, no need to wait, sign up today!
Here are some FAQs and questions I have been getting on our team I wanted to share:
1. I am considering participating in an event, what are the times and options?
The event will be held on Sunday morning, May 1st, 2011 at the Irvine Spectrum. Click HERE to see the courses. Here are the different events you can sign up for:
Half Marathon (my husband and I are running it – WOO HOO!)
10K or 5K Run (these and the above are chip-timed)
5K Walk
1K Kid's Fun Run
35 Mile Bike Tour
Click HERE to see the times for all the above events.
2. How do I sign up?
Click THIS LINK to go to our team page.  At the top there will be another link for "Join Our Team" – click it – and it will walk you through adding all your information to sign up.
3. How do I sign up my whole family to participate?
Many people have mentioned they want to do the 1K Kids' Fun Run with their kids because they are too small to run themselves. SO AWESOME!
The best way to register is for both parents to sign up for the 5K Walk and then sign the kids up for the 1K Kids' Fun Run. The 5K walk starts at 9:30am so it will be great to take your strollers & joggers and walk a nice walk with the entire family.  Then, you can go watch/participate in the 1K Kids' Fun run at 11:00am with your kids.
I am signing up both my girls (Emma & Morgan) to do the 1K Kids' Fun run.  I think it will be such a positive experience for both of them to get a bib, a shirt and feel like they are really a part of something special. And to teach the lesson about helping other kids. This is SO powerful to me.
4. Can I bring my kid in a stroller?
Yes, strollers are permitted!
5. Can I sign up for one event and then change to another as it gets closer?
Once you register online for an event, it can't be changed online.  When you pick up your registration and bib for the race, you CAN change your event at that time.  It just won't be changed online.
6. I don't like asking people for money, do I have do fundraise?
NO!
Of course, I would love you to give your friends and family the opportunity to give to this cause, but it is not required or mandatory.
7. My family is busy that weekend and can't participate.  How can I help?
Donate!  Even $1, $5, $10 will help! You can click HERE to donate to my personal page (thank you SO much) or click on my daughter's names above if you would like to help them (and I guarantee they will get a HUGE kick out of it!)
Two of my team members are doing fundraising events that you can participate in as well!  Erica from CoreAthletica.com is holding two pilates fundraising classes in the new year.  For a $35 donation to her personal page, 100% will be donated to our team.  And you will get a killer workout. Click HERE for upcoming dates.
TeraRaeStephens.com from Tek Salon will also be holding a fundraiser at Tek Salon in Costa Mesa in February called "Love is in the Hair" where you can get a Valentine's weekend blowout for a $25 donation to her personal page, 100% donated to our team.  Stay tuned for details!
8. This is a mom blog – are just moms joining the team?
NO!
My husband is running and in fact would love more men out there representing on Team Tiny Oranges!  Both my parents are walking the 5K and so are my in-laws.  This is an event for the entire family!
9. I am going to run an event and my family is going to meet me at the finish line. What will be there for the kids?
A LOT!!!   Click here for ALL the finish line festivities for the kiddos! Bounce houses, music, puppet show, petting zoo, and on and on and on.  It truly is a FAMILY FRIENDLY SUPER FUN event!
10. What's in it for me?
First and foremost, you will be helping to raise money and awareness for families affected by pediatric cancer. Not to mention if you want to run an event, it is a great motivator to get in shape in the new year.  And a positive lesson for your kids. And, and, and…I could go on and on.
And, are you ready for this?  The TOP FUNDRAISER (my family excluded) on the Tiny Oranges team will win a ONE NIGHT weekday stay at the Montage in Laguna Beach!!!!  A $700 value.  Is that enough incentive to sign up???
To those who want to purchase a team shirt, Running Divas is making us a SUPER CUTE team tee to wear for a bargain price.  Stay tuned for more details on this.
But most of all, sign up for KNOWING you are going to make a difference!
Go team go!!! I am soooooo excited to see what we can do!
If you have more questions, please comment below and I will respond or email me at jennifer@tinyoranges.com.   Thanks for your support!!! XOXOXOXO
You Might Also Like