by jen
$20 for $40 at Timree.com
Wednesday January 12, 2011
see more by
jen

When my cousin's wife had a baby, she made a point in her newborn-sleepless-crazed life to send me an email to tell me about a baby gift she received because she loved it SO much!  It was a personalized baby plate from Timree.com with her baby's name and birthdate on it and she absolutely treasured it.
So when I saw today's Plum District deal come up – $20 for $40 worth of gifts at Timree.com – I remembered the site and and their amazing gifts so I had to do an immediate post!
The deal is running on different So Cal districts then nationwide today through Saturday. This would be a great deal to snatch up as it is the PERFECT baby or birthday gift!
Look how cute…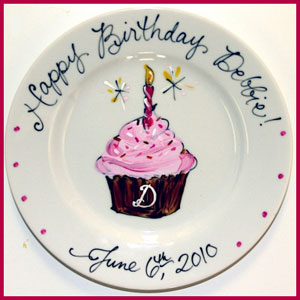 I got a special plate for Emma's first birthday and we use it every year on her birthday.   I am such a sucker for special traditions like that – so a plate like this would be so special to give as a gift !
And with this Plum District deal, they are super affordable!
Click HERE to buy it and if you haven't signed up for Plum District yet – DO IT! Totally free and all the deals are focused on MOMS and kids and families. Love this site and I buy a ton of their deals – just like this one!
{Disclosure: Tiny Oranges is a Plum District Affiliate.}
You Might Also Like