by jen
Lulu Love: The Groove Pant
Wednesday February 9, 2011
see more by
jen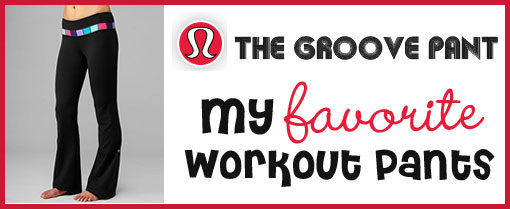 Oh, for the love of Lulu.  I didn't use to get it.
The first time I went into their Fashion Island store and saw the price tags on this workout apparel I almost fell over. But I sucked it up and bought some running shorts last spring and then I got it.
So when the weather changed, I decided it was time to buy my first pair of Lululemon workout pants.  But still, $98 for a pair of workout pants?! It is sort of hard to get over.  I hope my husband isn't reading this post.
I ended up with this –> Groove Pant <–because I kept hearing how they are pretty much everyone's favorite.  I have worn them for just about every workout since.  No joke.   They are that groovy!
And, for as flattering as a workout pant can be for this mom of two, they ARE. When you put them on, you just FEEL better.  I love that the pants have a seam down the back of the bum and leg, really flattering.    And the band at the top makes for a perfect muffin top smoother along the waistline.
I also love the band of color because it matches with a lot of tanks and adds some color.  They are also reversible to a plain black, but I love the color side so I haven't worn them in the plain yet.
They are very high quality and I believe they really are made better than the lower cost options (as they should be!!) The material is thicker, and after a gazillion washes (in delicate), they still look good.
I wear them both to run and for Pilates.
With the amount that I wear them, it was the best $98 I have spent!  I figure I will take ONE pair of these over 5 pairs of my old cheapo ones anyday!
Anyone else LOVE Lulu?  What's your favorite??
You Might Also Like