by jen
I Am Blogging My Heart Out Today!
Friday February 11, 2011
see more by
jen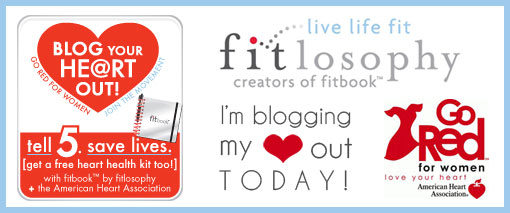 Recently I had the pleasure of meeting Angela, the owner of fitbook.  It's an amazing health and fitness journal to help you define and track your goals.  She gave me one to use, which was perfect timing, since I have officially started training for the PCRF half marathon on May 1st. I love it! Stay tuned for a full post on this fabulous fitness tool!
Today, I have joined the national "Blog Your Heart Out" day sponsored by fitlosophy, the creator of fitbook, who started this campaign in support of Go Red for Women and the American Heart Association to SPEAK UP and raise awareness of the #1 killer of women – heart disease.
I know you have probably heard that fact at some point, but it doesn't seem right, does it?  But it is true and here are some more facts you should know:
1.  Heart disease kills about 1 woman every minute, or approximately 450,000 women each year
2.  More women die of heart disease than the next five causes of death combined, including all forms of cancer
3.  90% of women have one or more risk factors for developing heart disease
4.  80% of cardiac events in women may be prevented by making the right choices involving diet, exercise and abstinence from smoking
There is something you can do!  Join fitlosophy and the American Heart Association as they create awareness around this very serious but silent killer. Fill out a short form on the Go Red site and in return you get:
1.  Access to BetterU, a free 12-week nutrition & fitness makeover (perfect to use with your fitbook!)
2.  A little GO RED dress pin to show your involvement in the movement
3.  A free heart checkup – plus a community to share your story
AND AS A BONUS: tell 5 women about the risks of heart disease and get a FREE heart health kit! So I urge you to sign up today!

As moms we are pulled in a thousand different directions.  Always making sure everyone else is taken care of – most times before ourselves.  I recently read a quote in a magazine, I can't remember which one, but it was an article on advice from older women to younger women and one wise woman said, "Take care of yourself first so you can be strong and take care of your family."
I cut it out and have it on my vision board in my office as a reminder that the greatest gift I can give my family is a strong and HEALTHY me.
This past year I have made some major health changes.  I had always been an on again /off again worker-outer pretty much my whole life.   But something clicked in me after my experience with gestational diabetes during my second pregnancy.  Since I have diabetes in my family, it hit me smack in the face, that for me exercise was not a choice anymore and it would have to be a lifelong commitment.
For the past year, I have worked out pretty religiously 4 – 5 days a week and I have never felt stronger, heathier or had more energy in my entire life.
Although I started doing it for myself, in a way I am doing it for my family too. Every time I come home from my morning workout my daughter asks me how many miles I ran or how my pilates class was.  It has made me realize she is watching me value exercise. Children learn by what they see.  I want her to see me as someone that that puts a priority on taking care of my body and health.  And when she grows up, I hope it will a part of her life too.
Feeling inspired today to make your heart the healthiest it can be?
Sign up  to join our Team Tiny Oranges and participate in our Pediatric Cancer Research Foundation Run/Walk on May 1st, 2011 in Irvine!
Having a race on the calendar is a great motivator to get out and get moving!  Plus, getting your children involved and exercising with you is good for the entire family.
So I hope you will GO RED FOR WOMEN today and speak up about health, wellness and the importance of taking care of our hearts. For ourselves and for our families.

Join us tomorrow to get gorgeous for a great cause!  $25 blowouts 100% donated to our Team Tiny Oranges!
Click HERE for more details!  Appointments preferred but walk-ins welcome!
Have a great weekend everyone! Hope to see you tomorrow!
xo
Jen
You Might Also Like