by jen
Trader Joe's Steelcut Oatmeal
Tuesday March 1, 2011
see more by
jen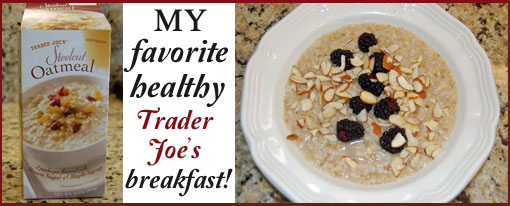 For years I have been hearing about how GREAT steelcut oatmeal is for you.
Problem? I am really not crazy about how it tastes.
So when I discovered Trader Joe's Steelcut Oatmeal I did a little happy dance because I actually really like it!
It can be found in the frozen section and is flavored with brown sugar & maple syrup (which probably helps.) However, Erica from CoreAthletica.com gave it her stamp of approval for it's low calorie count (only 150) and fairly low sugar content (7g.)
It only takes 3 minutes to heat and I have been topping it with fresh berries (recently blackberries or blueberries) and adding some sliced raw almonds for a little protein and fat.
It's great for breakfast or a mid-morning snack and nothing like steelcut oats to keep your system movin' along!
Wanted to share this little find  – because who doesn't love a new TJ product to love?
You Might Also Like