by jen
Morgan Law Group April Events
Tuesday April 5, 2011
see more by
jen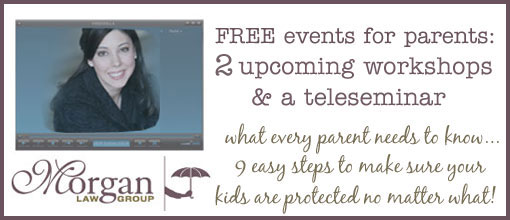 This is a topic no one EVER wants to think about, but as a parent, it is essential that you do!  Darlynn Morgan is a local Orange County personal family lawyer and helps families get the documents they need in place so their kids are protected if the unthinkable should happen.
Here is what her firm wrote about 3 upcoming free events to get more information on this topic!
If You Never Make It Home Today…
Imagine being involved in a serious accident or suddenly dying today without the authorities or medical personnel knowing that you have minor children waiting for you at home.  It could take hours before they even figure out who you are and even longer to get in contact with your children or other family members.
Even worse, imagine social services removing your kids from the house during this devastating time because they can't find legal documentation that says who the kids are permitted to stay with if something happens to you (contrary to popular belief, another friend or family member can't just "volunteer" to step in until the surviving parent or permanent guardian arrives!)  Your kids could be forced into the arms of strangers until a judge can make this critical decision on your behalf.
Fortunately, there are 3 easy steps you can take right now to ensure your kids stay protected and everyone (including police and medical personnel!) are on the same page if the unthinkable happens:
1) Legally document your choice of guardians
2) Carry a guardianship card in your wallet (you can literally make this yourself with a permanent marker and construction paper!)
3) Leave instructions and copies of your guardianship nominations with your child's school, babysitters and neighbors.
If you have not yet documented your choice of legal guardians or you are not quite sure how to get started with any of the above, I invite you to join us for one of next Kids Protection Planning Workshops.
We have 2 live events coming up and one teleseminar for those who want to stay in their jammies and get the info from home.  Here are all of the details…
Live Events:
Wed., April 6th 7:30pm
Trinity United Presbyterian Church
13922 Prospect Ave, Santa Ana, CA 92705
and
Thurs., April 28th 2pm
Granola Babies
2346 Newport Blvd., Costa Mesa 92627
And our teleseminar is TONIGHT at 8pm PST! Call-in details are given after registration.
Register today at www.KidsProtectionWorkshop.com or call 949.260.1400.
{Disclosure: Morgan Law Group is a Tiny Oranges Sponsor}
You Might Also Like