by jen
My Cottonelle "Make the Ultra Switch" Date Night!
Tuesday April 12, 2011
see more by
jen


When the of Cottonelle Brand contacted me last month about participating in a "Make the Ultra Switch" date night which is about how little switches can make all the difference, I was a little confused at first because one would typically not equate bath tissue with a date night!   But stay with me here, because,  the more I learned more about the message, the more it made sense and my husband and I had SO much fun on our date. And, I have to say, switching up our normal routine, really did make an awesome difference!
Cottonelle is challenging North America to Make the Ultra Switch, as, like a good relationship gone stale, toilet paper is the ultimate routine purchase.   People get into a long-term relationship with one brand and never consider how things could be better.
And, here is where the date night comes in…Cottonelle has teamed up with Patti Stanger, star of The Millionaire Matchmaker, who is sharing her top tips and tricks for making those little switches that can make all the difference in relationships. A ha! Now I get it!
Since going on regular date nights with my husband was a New Year's resolution of mine, and how I blogged about bringing date night back, I thought this would be a fun thing to participate in.

Don't laugh, or does this sound eerily familiar?! After a long, busy day with the kids the evening craziness starts around 5:30pm or so with baths, the crazy dinner hour, jammies, books, the whole bedtime routine, etc.  By the time this is all done and the last door is shut with lights out, it is usually 8pm or so.  Then we clean the kitchen and retire to the couch to check out our DVR list. We watch a show, possibly two and pass out with exhaustion around 10:30. Super romantic, huh?

So, to say I was a little excited about a hot date with my husband was an understatement.  I wanted to take full advantage our date night, so I turned it into more of a date day!   And I started with one of Patti's tips, which is to "Upgrade," or rather get a new hair style or make-up application to freshen up your look.  Love this idea!
I had been hearing about the Drybar blowout bar and thought, what a perfect time to check them out and switch things up by getting a fabulous blowout and different "look" for our date!

Drybar is newly opened and located in Fashion Island. I made an appointment online for Saturday afternoon, dropped off the kids at the grandparents for their sleepover, and went to start my pampering.
The place is amazing! Super fun, hip, great energy, $35 blowouts & chick flicks to boot!  I browsed a "look book" to pick my style and decided to "switch things up" by getting the "Cosmopolitan" which is lots of big loose curls.   I have worn my hair straight for years, so I wanted to surprise my husband with a new look!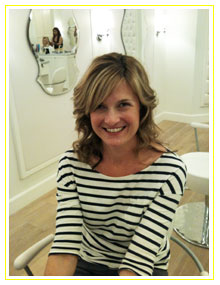 After a delightful scalp massage, my stylist Sarah, did my tresses and I LOVED IT!   Nothing like walking out with new sexy hair to put a little spring in your step!
<– Here are my new curls.  Excuse the poor quality iPhone picture. I took my good camera but forgot the battery. Typical mommy brain!
From there, I walked over to Nordstrom as I was needing some new Bobbi Brown make-up, and had the girl do my full make-up.   Which was free with the exception of $157 worth of new make-up purchases. Moving on…
Do you remember the last time you got your hair and make-up done? Were you probably a bridesmaid?  Or a bride?!   It's about time you treated yourself again mamas!  It was so much fun!
Again, to switch things up, we decided to go someplace we had never been before. Since we got married in Laguna Beach, that is sort of our special date place we love to go, and we made reservations at K'ya Bistro in La Casa del Camino hotel in Laguna.
We started our date on The Rooftop Lounge and then went downstairs for dinner. Unfortunately the weather was absolutely, amazingly gorgeous for Thursday, Friday, then come date night it was cloudy and freezing.   Thank goodness we had some yummy cocktails to warm us up, along with heat lamps and borrowed throws!
Here is my hubby and I toasting with our date night cocktail!  Lemondrop Martini for me. My favorite!
If you are looking for a fun date night location, this is a great place.  Having a drink up top first looking at the gorgeous view is amazing. It was fun even on a freezing night – can only imagine how awesome it would be on a gorgeous day!
K'ya is a small plates restaurant, so again, switching things up as we had never eaten at a small plates place before! The food was amazing and really reasonable.  My top picks were the BBQ Meatball starter, Lobster Truffle Risotto (still dreaming about it) and the Wild Hawaiian Ahi Poke.
To switch things up during dinner, we did something fun and different. You know how you always end up sort of talking about the same topics?   We took turns asking each other questions that we don't normally ask or talk about.   It sort of felt like a first date!
The answers were really sweet, and I think both of us actually got teary-eyed at some points. The underlying message was how much we love and appreciate each other. And, it was really refreshing as these topics do not normally come up during the post-kitchen clean up or DVR marathon on our normal Saturday night!
An evening like this does remind you of why you fell in love with your partner all over again.  And brings you back to the days when you were sort of carefree and able to sit and just focus on each other.  A connection like this rolls over into the week ahead, and even with the kitchen gloves on I can wink at my cute hubby and remember our evening of switching things up!
Make the Ultra Switch!
To shake things up, Cottonelle brand is having a "Make the Ultra Switch" Sweepstakes and giving away daily prizes to encourage consumers to try something new in the bathroom: Cottonelle Ultra Double Roll, which is the thickest toilet paper in the aisle.
Now through May 1, switch to Cottonelle Ultra toilet paper and enter for a chance to win up to daily prizes—each designed to inspire those little switches to help get you out of a relationship rut, whether it's with a long-term partner or a bath tissue brand.
For the complete list of prizes and official sweepstakes rules, visit www.CottonelleUltraSwitch.com.
And, Cottonelle has shared with me 3 extra bonus codes you can use to enter! They are:
* DATESWITCH
* ULTRADATES
* COASTULTRA
So, whether it is with your bath tissue, or with your relationship, I hope this post has inspired you to switch things up a little in your routine and believe me, it CAN make a big difference!
I have a giveaway of Cottonelle Ultra tissue coming up next week – something EVERY person can use – so stay tuned for details!
Follow Cottonelle on Twitter * Stay Up to Date (including tips from Patti!) with Cottonelle on Facebook * Share Your Ultra Switch Story on www.CottonelleUltraSwitch.com
Disclosures:
Our date night was sponsored by Cottonelle, and my husband and I received car service to take us on our date, gift cards for our date & pizza for the kids & product sample.  Yes, I am a lucky girl.
Drybar provided me with a complimentary blowout.  Again, so lucky.
Nothing to disclose on The Rooftop or K'ya Bistro and did not receive free food or beverage.
All my opinions on the above are my honest ones, as always.
You Might Also Like