by jen
The New iComfort Sleep System by Serta
Wednesday May 11, 2011
see more by
jen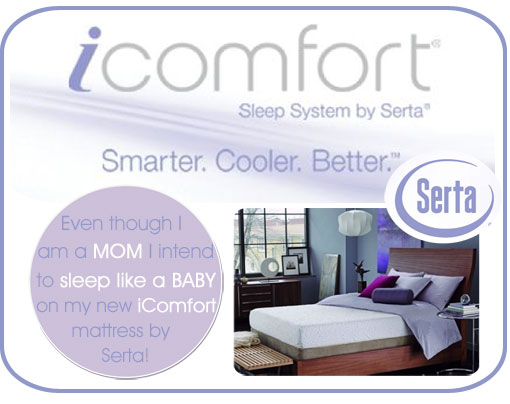 Do you believe in fate?  Have you ever had something happen to you that seemed too good to be true?  Well that's how I felt a few weeks ago when I was invited to attend the Serta iComfort Blogger Experience tomorrow in Chicago.  And keep reading below because I have a giveaway coming up that is going to seem too good to be true to you too!
The reason I was so beside myself with excitement is because our sorry mattress is almost 14 years old, tired, sunken in and we need to say "good night" to it for good!
Just this past New Year's Day I told my husband, "this is the year we HAVE to get a new mattress."   However, buying a new mattress can be overwhelming as there are so many choices, so we have put it off, that is until now.
Being a part of the Serta iComfort Blogger Experience means that I get to be one of the first to experience the new iComfort Sleep System by Serta, which features the latest breakthrough in memory foam technology. Serta's  Cool Action Gel Memory Foam is the world's FIRST memory foam infused with the support and cooling touch of Serta's MicroSupport gel which creates an extremely comfortable, more supportive and cooler sleep surface.
Sounds heavenly, doesn't it?
I will also get to take a tour of the Serta headquarters for a behind-the-scenes look at the latest mattress technology from the company that "makes the world's best mattress" and get to meet with Serta sleep experts who will help us pick the right model for us. The new iComfort Sleep System comes in four different models to choose from ranging from cushion firm to luxuriously plush.
I can almost feel myself sinking into this dreamy bed already.
In any case, I just wanted to share what I will be doing this week, and I can't wait to come back and report all I learned about Serta and the iComfort Sleep System!
And, drum roll please…
When I return, I will have my BIGGEST giveaway ever as not only do I receive a complimentary iComfort Sleep System, but Serta is giving me one to give away to one lucky Tiny Oranges reader as well!!!  Stay tuned mamas, soon you might be sleeping like a baby too!
www.icomfort.com
Follow Serta on Twitter @SertaMattresses
Stay up to date with the latest with Serta Mattress on Facebook
{Disclosure:  This trip is sponsored by Serta and my travel and accommodations will be paid for.  I will receive a new free iComfort Sleep System and I can already feel myself nodding off to sleep in my heavenly bed. Zzzzzzzzzzzzzz}
You Might Also Like