by jen
The Next Chapter
Wednesday August 31, 2011
see more by
jen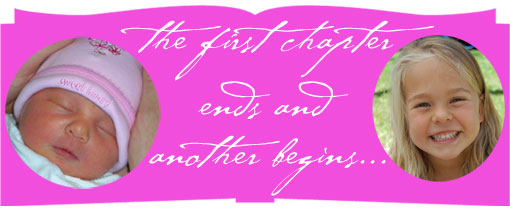 My oldest starts kindergarten on Tuesday.
I wish I could say I am totally calm and zen about it, but I am most certainly not! I have been a somewhat stressed (but trying really hard not to be stressed) mixture of both anxious and excited nerves.
It has also been a nostalgic time for me realizing the first chapter of her life is coming to an end and a new one is beginning.
Not just for her but for us as parents as well.
And it's sort of a big change. For a Type A sort of planner like me, change is a challenge and I feel like I am losing a bit of control.  Then the "Mama Bear" in me comes out and just wants to protect her!
But I have realized I cannot control what friends are or are not in her class, if she will like her teacher, if she will be able to reach the monkey bars at recess, if she will find friends to sit with at lunch, if she will wash her hands before snack, and on and on and on…but I have to know that she will be OK.
My cousin who has older kids and has been a mommy mentor to me in so many ways had a really beautiful quote.
Her advice was to go into the year with an "open heart" trusting in the fact that she will end up with the teacher she is supposed to have and things will work out the way they are supposed to and that everything will be OK.
I love the open heart reminder.
So with an open heart and also some nervous butterflies, I will go with her on Friday for orientation to meet her teacher and then on Tuesday to take her for the first day.
Wish me luck.
To the mamas that have been there before, I would love your advice!
As always, thanks for reading. xoxo
You Might Also Like