by jen
Paradise Point Review Part I: A Family SoCalCation in Paradise
Wednesday September 7, 2011
see more by
jen

My family and I went on a SoCalCation a couple weeks back to the beautiful Paradise Point Resort & Spa in San Diego and had one of the most memorable vacations of our lives.
Having two young girls, ages two and five, the property could not have been a more perfect fit. My oldest enjoyed our vacation so much she was crying when we left because she didn't want to leave paradise!
There was so much that we loved about staying at this resort that when I sat down to write this post it was hard to know where to start. To make it easier, I jotted down a list of our favorite things that I really want to highlight. When I did, it was obvious I will need to break this review into two posts! Here was the list…
* our beautiful room * the expansive lush grounds * the convenient location * the five pools *
* the tranquil bay * all the different activities available for kids and families
So I will start with the first three of my favorite things in Part I today, please look for Part II in a post coming soon!


[Photo: Paradise Point]
The room we had was one of the best parts of the trip. We stayed in a spacious, beautiful one-bedroom Bayside Bungalow situated in a beautiful, peaceful and wind-protected cove called Paradise Cove and our room was smack on the sand.
With little ones, to us,  having a comfortable and convenient room is super important, number one because my little one still takes an afternoon nap and number two because our kids go to bed relatively early so my husband and I enjoying hanging out in the room after they go to sleep.
The Bayside Bungalow could honestly not have worked out better!
When we saw the location and patio right on the beach it was love at first sight, and we hadn't even walked in yet.
We adored having this room as we could sit on the front patio and watch our oldest play on the sand while little one napped and seeing that the bay had zero waves it was so relaxing even with a two-year-old.
One night we got a picnic dinner and just sat out there for hours as the kids played.  Here we are outside our room with the kids enjoying an after dinner popsicle.
We also had a fire pit steps outside our room so we did nightly bonfires with s'mores.  My husband and I stayed up late talking by the fire every night.  So even though it was a "family trip" I still feel like we got quality time as well. Bonus!
And the room itself was fabulous! It was a big one-bedroom with a comfortable living room, dining table with bay view and also a kitchenette.  When traveling with kids, to have a kitchenette with a mini fridge and sink is KEY!  We were able to pack all of their breakfasts and snacks which made it so easy.
Paradise Point Tip: If you are staying in a room with a kitchenette and plan to bring some of your own food, remember to pack napkins, a paper towel roll, plates, cups and utensils and also a little dishwashing soap.
We also loved the room layout. The bedroom was a great size and had a king sized bed.  There was plenty of room for us to put our Pack-N-Play next to the bed, and there even would have been room for an additional rollaway if we needed it.  The living room also had a pull out queen sleeper sofa.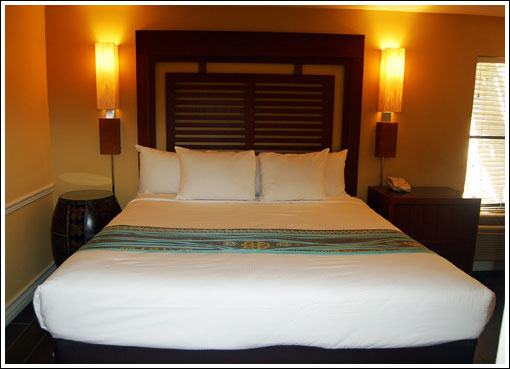 Another favorite feature of the room was the bathroom. There were two separate huge closets, two separate sinks and vanity areas and a perfect shallow tub and shower perfect for bathing sandy kids.  The bathroom was separate from the sleeping area, so the doors could be closed to the bedroom and we could still use the bathroom without waking the sleeping kids. LOVE THIS!
The room was also extremely clean and had cool, modern Balinese style decor.
Paradise Point Tip: Most of the Bayside Bungalows are connecting units, so if you are wanting to vacation with extended family or friends, these rooms would be perfect as you can open up the connectors. However, the patios are still very private if you are traveling with just your family. If you are interested in booking a trip with a group, inquire about this when making your reservation.
Also important to note, Paradise Point has a variety of different room types to fit every preference and budget.  From lanai rooms to patio rooms to luxury suites, there is something for everyone.
I was told that all the rooms were recently remodeled with the same style and decor when the property underwent its 20 million dollar renovation, so they all have the same type of flooring and decor.
Paradise Point Tip:  If traveling with crawlers or toddlers, I would ask about what is outside your room when booking. There were several rooms with patios situated on darling ponds just beyond the back patios.  The ponds were beautiful and lovely, but I would not have wanted to stay in that room type with an adventurous two-year-old because I would have not been able to keep her out of the pond water!

Paradise Point is located on a 44-acre island where there was so much roaming and exploring space for little ones.  When you arrive, you feel like you are taking a step back in time and visiting a tropical island. The word "paradise" truly does come to mind!
There are ponds, ducks (you can buy duck food in the Island Market), a historical tower, lily pads galore, little wooden bridges and fountains. So, part of the fun for us was just walking around the property.
Paradise Point Tip: Make sure to pack a stroller if you have little ones, along with their little bikes and scooters if your kids are into those things.  We visited all the different pools and took a stroller as the pools were not far, but far enough for little legs especially after hours of swimming.  They also have bike rentals next to the Island Market geared towards older kids and adults.

There is nothing easier than taking a vacation where you can pack up the car with everything you need and just GO!  When you have a baby or toddler, there is so much gear to lug along, I much prefer to vacation somewhere we can drive.
Door to door (and a few Dora's on the iPad later) we were at our resort in 1 hour and 20 minutes.  Perfect amount of time in the car with our kids.
Paradise Point likes to use the slogan that the island is "insulated not isolated" which we found to be SO true.  The island felt like another world, completely tranquil and relaxing, however, you are only a short distance from many other San Diego attractions.
The biggest attraction being Sea World of course.  This summer the resort even started a water taxi service to Sea World as it is right across the bay and visitors can enter in their own separate back entrance with zero lines (water taxi has a separate charge.)  You can conveniently buy your Sea World tickets at the Paradise Point Island Market or book a Sea World package.  The Sea World water taxi was new for Summer 2011. Check the website to check availability.
The property is also only 10 minutes from downtown San Diego and many shops and fun restaurants.  The world famous Old Town San Diego is also close as is the San Diego Zoo and Balboa Park. Those are two of our favorite San Diego places to visit with kids.
It is awesome to have the option to make it a vacation where you fit in fun day trips, or do what we did, which was basically arrive on the property and never leave!
I take that back, one morning I went on a gorgeous run along the other side of Mission Bay and we did go "off campus" for breakfast to Mission Beach one time as well.  We ate at the Mission Cafe and it was one of the best breakfasts I have had in a LONG time! But for the most part we spent four days just enjoying the property and all it had to offer.
Between the amazing room, gorgeous grounds and convenient location, Paradise Point was everything and more than we could have hoped for.
Let me tell you, if you are looking for a family-friendly resort in Southern California, it doesn't get much better than Paradise Point.
And, I haven't even covered all the fun we had at the pools, bay and the activities onsite as well! That will be Part II of my review.  Stay tuned…
[Disclosure: We received a portion of our stay complimentary and a portion with a discounted media rate.  This is not a compensated post and all the opinions are my honest ones.  We LOVED staying here and I think you will too!]
You Might Also Like