by jen
Relish! Weekly Meal Planning [Made Easy!]
Monday September 12, 2011
see more by
jen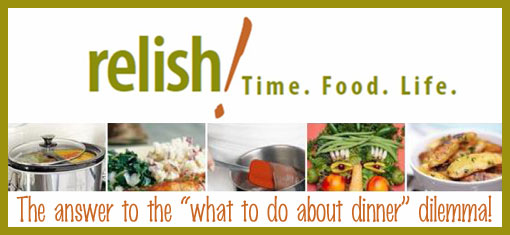 Those of you who follow my blog already know that I hate to cook, but now that I have been practicing more, I am hating it less and less.
One of the things I always disliked about cooking was the fact that I used to find meal planning stressful.  Those of you who cook are probably laughing at me, but a huge part of the stress for me was due to the fact that I was failing to plan ahead.
So when the company Relish! contacted me to tell me about their easy weekly meal planning site, I was intrigued and thought it was something I should probably try.
I signed up and now I am HOOKED! And if my husband met the Relish! founders I am sure he would want to give them a BIG hug!
Here's why I love it:
1. It has made me plan ahead (but made planning ahead easy.)
2. It has taken the stress out of "what am I going to make for dinner?" because I am planning ahead.
3. It has given me ideas for healthy dinners.  Things I would never have thought to make on my own.
4. It has made grocery shopping for the week a breeze.
Here is how it works:
It is an online subscription – a cheap one I might add!  Relish! has actually given me the "Redeem a Voucher" code of "Tiny-O" which gives you 14 days to try it out for free to see if you like it!
To sign up for free, click here, then click "Redeem a Voucher" in the very top left portion of the screen.  Enter your email address and a password, and then you can log in and browse the recipes and meal plans for 14 days.
After trying it for free for 2 weeks, when you want to subscribe, it is only $21 for 3 months ($7/mo), $35.70 for 6 months ($5.95/mo) or $58.80 for the year ($4.90/mo!)
The coupons they offer alone are a huge savings and it would probably save enough so that the subscription would pay for itself.  Just yesterday when I checked there were 128 coupons offered.  You will find the "Coupon Center" under the "My Account" tab.
When you sign up for a membership, each Thursday members are emailed a week's worth of meal ideas and 15 different menus to peruse including side dishes.  See one you like?  Click the green arrow to add it to your weekly menu and/or the purple arrow to add it to your favorites.
Not seeing what you are looking for?  Click to browse their myriad of recipes by ingredient and/or category (e.g. kid friendly recipes, one dish, quick, salads…you get the idea!) and you can add those recipes to your weekly list too.   The weekly menu looks like this:
Once you have selected your weekly menu, you then click "Create Shopping List" and it will create a full shopping list for ALL your menus! I love it because it codes each individual recipe item by A, B, C, D, etc. so if last minute you decide to scrap a meal, you can easily omit those items from your shopping trip.
It also categorizes your shopping list by grocery store section, like "Produce" or "Dairy."  It makes it soooo easy!  Here is a shopping list example:
Another thing I love is that all the menus are 30 minutes or less in prep time, and, as moms, we know how vital a quick meal prep is. In addition, if you want to choose their freezer meals, you can have awesome meals ready to go when you are.
You also have the option to add your OWN RECIPES to the site, so you can include your own favorite dinners and add those into your weekly rotations.
Relish! makes meal planning easy and fun!  And for a person like me, that is saying a LOT!
www.relishrelish.com
Follow Relish! on Facebook + Follow Relish! on Twitter
[Disclosure: Relish! is a Tiny Oranges Sponsor]
You Might Also Like