by jen
Camp Spooky at Knott's Berry Farm
Tuesday October 4, 2011
see more by
jen

On Saturday my family and I had the opportunity to attend "Snoopy's Costume Party" in Camp Spooky at Knott's Berry Farm.
I hadn't been to Knott's Berry Farm since probably my sophomore year in high school, which was, um, quite some time ago so I was excited to visit again and take my girls for the first time.
During the weekends in October, Camp Snoopy, the area in Knott's dedicated to rides for little ones, is transformed into Camp Spooky, a knott so scary way to celebrate Halloween!
Geared towards little ones ages 3 – 11, your little ghosts and goblins (or in my case matching cheerleaders) can dress up in their costumes and enjoy Halloween festivities like trick-or-treating, a "Haunted Harvest" corn maze, Linus' Foam-tastic Pumpkin Patch, a costume parade, Monster Mash Dance Party and more.
This area of the park was AWESOME for my girls ages (2 & 5.) I have a tall two-year-old, so she could go on most of the little rides with her sister, and for the ones she was too small for, we could go with her.
From a school bus to a mini roller coaster to racing cars to airplanes to a pretty fast ferris wheel, there were lots of fun rides to go on.
But above all, I think this massive inflatable Snoopy Bounce attraction had to be the HIT of the day! I could barely get my two little ones out of it!  Talk about something to cheer about!
Throughout Camp Spooky there was festive Halloween decor, trick-or-treating stops (my girls LOVED this!), a Halloween hay maze and more boo-tiful decorations.
After our time in Camp Spooky, we cruised over to the Ghost Town where we happened to catch a real show down, and I got sucked into a boutique all full of little girls hair accessories that were super reasonable and SO cute.
After we did a little damage there, we went to check out the Calico Mine Ride and Log Ride, which was so fun to experience since I hadn't been in so many years.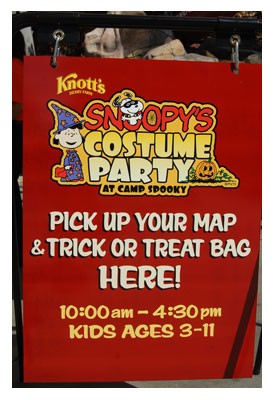 Camp Spooky takes places on weekends between the hours of 10am – 4:30pm.
You will pick up a trick or treating bag and map at the entrance outside Camp Snoopy.  Each candy stop is marked off on your map.
General admission tickets online are $46.99 for adults ages 12 + and $24.99 for those 3 – 11.
And, something fun to note, season passes for 2012 go on sale in November and are only $64.99 for the year, with no blackout dates.
If you buy yours in November, you also get the rest of 2011 FREE!
I think this is a super deal for the price.
Parking is easy at Knott's and if you have little kids and Camp Snoopy would be such a fun outing for a couple of hours.
For more information visit www.knotts.com.
You can also keep up to date on the latest by liking Knott's on Facebook and follow @Knotts on Twitter.
[Disclosure: My family received complimentary media tickets to attend this event.  Thank you Knott's Berry Farm!  We had such a fun time!]
You Might Also Like