by jen
Another Jessica Bennett Interiors Tiny Oranges Project: A Little Boy's Room
Wednesday October 5, 2011
see more by
jen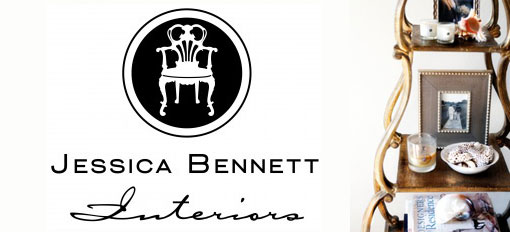 This past March I did a post on the extreme accessories makeover that Jessica Bennett Interiors did on my living room.  Every single time I walk through my new living room it makes me feel happy.
From this first post, Jessica got lots of inquiries from Tiny Oranges readers also wanting some design assistance. One of these inquiries resulted in a super cute "big boy" room for a soon-to-be big brother of an OC mom in Irvine!
I love that my post turned into a beautiful new room for another family, so this is a full circle project between Jessica Bennett Interiors and Tiny Oranges! I love design posts so I am thrilled to show you this family's before and after pictures of their two-year-old's new room.
First, a little about this project!
While Jessica offers Full Service Packages all day every day (meaning design assistance from concept to purchasing, installation and placement) she also offers Design Packages alone that give clients a DIY option and this particular mom hired Jessica for a Design Package and did the purchasing on her own.
Regardless of which package you book, Jessica always visits your home and sees the space firsthand so she can get to know you and your style.  She understands that interior design is extremely personal and also a commitment, so she always offers a complimentary consultation in your home so you can both see if it is a right fit.
Her Design Only packages include a VERY detailed binder (I know they are detailed because I have seen one and my jaw dropped) which includes:
* Comprehensive design concept and vision
* Concept photos
* Floor plan with measurements
* Paint colors (or wallpaper selection) down to the name and brand
* List of items to purchase including pictures, item numbers and prices
* Detailed budget
With these packages, Jessica also makes herself available during the DIY purchasing portion to answer questions and offer advice along the way without an additional charge.
Now back to this project!
With baby number two on the way, this client needed to move her son out of the nursery into his first big boy room and she wanted a room where he could grow into the space.
She wanted to stay away from anything theme-y and create a room that had a versatile canvas where she could change the accessories and look as he got older, while still having a foundation that she loved. So, without further ado…

The room to start was an empty guest room that looked like this…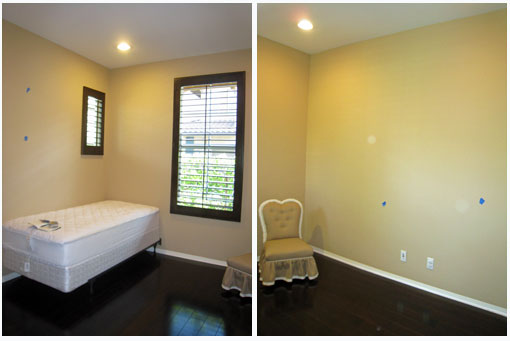 And then, with their collaboration, inspiration and I am sure some MOTIVATION with baby on the way, here is the finished project!
And the wall space:
Don't you just LOVE it?!? I have girls, so I don't have boy decor, but this is one of the cutest boys' rooms I have ever seen!
I asked Jessica to point out some of her personal faves about this space:
* This room is reflective of her personal style…not cutesy but still obviously a darling kids' room
* The fabulous indoor / outdoor rug which she favors for kids' rooms because they are so durable and easy to clean was a favorite find
* The expansive shelving that offered a great way to fill the large empty wall also offered a lot of display space and functional storage
* Striped walls! Jessica has been on a stripe kick lately. If you follow her on Facebook you will see stripes all over. Speaking of Facebook, I highly recommend liking her page if you are a fan of design, tons of cute ideas and inspiration.
Overall, I love being able to feature a Jessica Bennett Tiny Oranges project and hope this is the first of many more to come, because I am addicted to design ideas!
If you work with Jessica, I can guarantee you will love working with her just as much as you love your finished project!  She is not only the most talented interior designers, but also one of the nicest, most personable women I have ever met.
Beautiful project ladies! Thanks for giving me the opportunity to feature it!
Interior Design for Young Professionals & Families
[Design Projects of all sizes starting at $1,000 minimum]
1931 Newport Blvd., Suite J
Costa Mesa, CA
Telephone: 949.706.0210
jessica@jessicabennettinteriors.com
Follow Jessica's latest projects on Facebook * Connect with Jessica on Twitter
[Disclosure: This is a Sponsored Post.]
You Might Also Like