by jen
Sili Squeeze Reusable Snack Squeeze [+ Giveaway and Coupon Code!]
Monday October 17, 2011
see more by
jen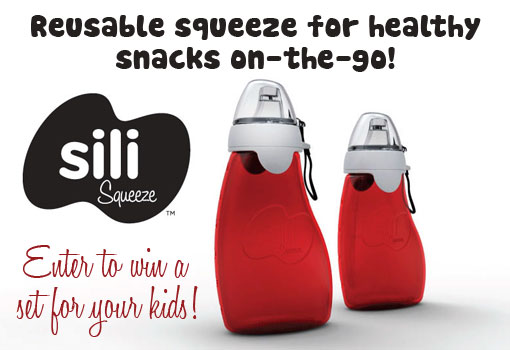 When we are out and about, I have to admit the snacks I pack for my kids are not always the freshest or healthiest.  For time and convenience, most of the time the snacks I take along come out of a box. So when I heard about The Sili Squeeze reusable snack squeeze I was interested to give it a try. You can try it too if you win today's giveaway (enter below!) I also want to share a special Sili Squeeze coupon code "SILITINYORANGES" for 10% off your purchase through 10/31/11.
The Sili Squeeze is a reusable squeeze that lets growing babies snack on purees, yogurt, applesauce, smoothies, etc. while on-the-go! Little ones as young as six months can use The Sili Squeeze and it is "mommy hands free" so your little ones can squeeze themselves silly whether in the stroller, car or shopping cart.
Several things I love about this product:
* It's spill-free.  I mean completely spill-proof. I can vouch for this! You will not see one drop spill even if tipped upside down and shaken!
* It's 100% diswasher safe, BPA and phthalate free. The silicone body and nipple are UV repellent as well so you don't have to worry if it's left in the car.
* It's eco-friendly. Their reusable products encourage the elimination of single-use, disposable squeezes. Better for baby and better for our earth.
I was sent a combo pack for review by the founder, Kristin Ahmer, who is a local San Clemente mom who developed the product out of a desire to feed her son healthy foods on-the-go. It is so inspiring to see moms turn ideas into products!
So my two silly girls each got their own Sili Squeeze to try.  They were both very intrigued with the design.  The silicone body is very squishy and fun to squeeze.
Because it is  major spill-proof design, kids and parents should not be frustrated by the tightness of the nipple.  It works when your child figures out they have to simultaneously gum or bite the nipple valve while squeezing at the same time. It is a coordinated effort!
So it took my little ones several tries before they figured it out. I had to give it a try with my littlest probably four different times before she got it. Hang in there and keep trying! But when my two-year-old got the applesauce out for the first time, her eyes lit up and she yelled, "It working! It coming out!"
And now she loves it. I love that it keeps her busy in the jogger and has kept the floor of my car a little cleaner too!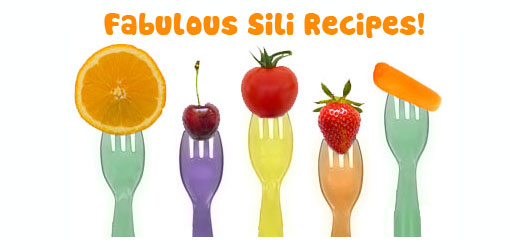 Click HERE to get some awesome recipes for baby purees and blends on The Sili Squeeze website.
This is such a great product and would make a fun baby or shower gift as well!
Hooray! It's a Tiny Giveway!
One lucky winner (US residents only) will win a Sili Squeeze Combo Pack: one 4 oz and one 6 oz.  To enter, please leave a separate comment for each entry item.
Contest runs through Monday, 10/31/11 at 5pm PST. Winner will be contacted via email so please leave your email in the email field (won't be published.)
Entry options:
1. Simply comment and tell me what food you would like to try it your Sili Squeeze – 1 ENTRY
2. [Like] Sili Squeeze on Facebook – 1 ENTRY
3. Follow @TheSiliSqueeze on Twitter – 1 ENTRY
4. [Like] Tiny Oranges on Facebook – 1 ENTRY
5. Follow @TinyOrangesOC on Twitter – 1 ENTRY
6. Tweet "Enter to win a reusable snack squeeze for #babies and #kids from @TheSiliSqueeze on @TinyOrangesOC! http://wp.me/p1MmcT-2jQ "– 1 ENTRY
7. Subscribe to my Tiny Oranges email updates – 1 ENTRY
Good luck!
[Disclosure: The Sili Squeeze is a Tiny Oranges Sponsor and I was sent a combo pack for review but as always, my opinions are my honest ones!]
You Might Also Like