by jen
For Your Next Party: Company 77 Mobile Pizza Unit [+ Giveaway!]
Tuesday October 18, 2011
see more by
jen

Take some advice from me.  If you end up hiring the Company 77 Mobile Pizza Unit for your next party at your house you might want to give the neighbors a heads up. When this 30′ big red shiny fire truck pulled in my driveway last week, my neighbors were worried something happened until they walked over and took a whiff of the fresh garlic, heard the the party music and saw the white canopy set up on the rooftop kitchen!
And Company 77 is giving away a $300 party credit on today's giveaway, so make sure keep reading and enter below because you would be getting an awesome deal for your next special event!
This unique big red fire truck started serving gourmet pizzas in their hometown of Mystic, Connecticut as an extension of their local Pizzetta pizza parlor. It was a huge success, however the Connecticut weather limited the number of months the truck could be out partying, so the owners searched for a place in the US where they could take their shiny truck and cater private parties year round. Guess where they ended up? You got it, Orange County! And we are soooo lucky because this is one of the coolest ideas for a party I have ever seen!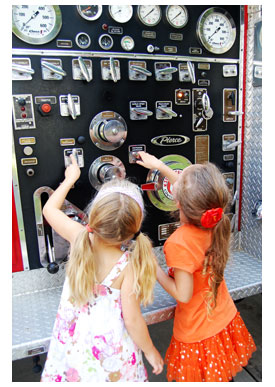 Serving up their stone cooked thin crust pizza at OC birthday parties, corporate events, reunions, neighborhood parties, rehearsal dinners and more, they can go anywhere relatively flat where they can park their 30′ party truck.
Because Company 77 really has to be experienced firsthand to get the full effect of just how fun it is, the owner sent the truck to our house last week where a handful of friends and neighbor kids got to check it out.
First off, have you ever seen a kid that was not completely enamored with a shiny fire truck? It's almost like magic!
And this pizza truck was full of hands-on exploring areas where little ones could turn kid-friendly knobs titled things like "Pizza Sauce Valve" so they thought they were "helping" make the pizza! Here are two of the sous chefs working to help Chef Christopher.
Next to the control center, there was an area where people could climb up into a seat, put on fire hats and push a red button to take their OWN photo booth picture!
After the event, Company 77 sent me a full online album of all the pictures I could share with my guests and anyone could download or order the photos. Such a cool thing to be able to share after the party!
Full of lights, a working hose canon that actually sprayed water off the roof, and a flat screen TV where you could play a video montage, or in our case, watch the chef working his pizza magic on the roof, the truck was full of entertainment for kids and adults alike.
Here are my girls in the photo booth, they had so much fun (and I think took like 30 photos!)
And all of this fun has happened before I tell you about the PIZZA.
The novelty of the truck in itself is so much fun that even if the pizza was just so-so, it wouldn't matter, because it would be worth it, but add in the fact that the pizza was so off-the-charts amazingly good that it made Company 77 just a "WOW" experience from start to finish.
[Photo: Company 77]
I am told the secret is in the crust.  Using an ancient art of natural sourdough bread baking, the crust is made from organic stone ground flour, sea salt and filtered water.  Using natural, organic and local fresh ingredients when possible, the assortment of red and white pizzas were mouth-watering good.
The problem? The pizzas were so thin, flavorful and light I could have probably eaten an entire half by myself.  The spinach and feta specialty was one of the best pizzas I have ever tasted.
And, my two-year-old who is allergic to milk and eggs and who normally can't have pizza was able to eat her own Company 77 dairy free pizza using Daiya dairy-free cheese.  It was really special for me to be able to give her a piece of pizza at a party.  Almost makes me want to cry!
They also have gluten-free pizzas available at no extra charge.  Love you Company 77!
And for the adults, you can buy and self-serve your own beer and wine if you choose, using their fire truck mounted beer taps and coolers at no extra charge. Pizza and beer, a match made in heaven!

It was so much fun to see the truck in person that I am excited to share that Company 77 will be at the Newport Dunes Haunted House Event on Friday, 10/28 – Monday, 10/31 from 5 – 9pm if you wanted to take your kids to this fun Halloween event and try a slice for yourself! Please note they will not be there on Thursday, just Friday – Monday.
Click HERE to download the complete flyer with details and visit www.newportdunes.com for more info.
And…
How much fun would Company 77 be to have at your corporate holiday party? Aren't employees tired of the same 'ole same 'ole every year!
This would be a guaranteed hit! Contact them for a quote.
And one final thing before I get into the giveaway, Company 77 also does school fundraisers, where the schools will receive a minimum of 10% of the proceeds.  Contact them for more information on their fundraising programs and click here to download a flyer with more information.
The owners could not be nicer people, they are so friendly and fun, and when talking to them on the phone they said, and I quote, "If someone really wants a party, we will make it happen for them."  Meaning that they are willing to work with you on the date and rate to get Company 77 out to your next party.
Hooray! It's a Tiny Giveaway!
One lucky winner will receive $300 off any party package for an event in Orange County, CA*.
To enter, please leave a separate comment for each entry option.
Winner will be selected at random and contacted via email so please leave your email in the email field (won't be published.)
Contest runs through 11/08/11 at 5pm PST.
Entry options!
Please leave a separate comment for each entry option.
1. Comment and tell me your favorite pizza topping – 1 ENTRY
2. [Like] Mobile Pizza Unit on Facebook – 1 ENTRY
3. [Like] Tiny Oranges on Facebook – 1 ENTRY
4. Follow @MobilePizzaUnit on Twitter – 1 ENTRY
5. Follow @TinyOrangesOC on Twitter – 1 ENTRY
6. Tweet "Enter to win $300 off a party from the #OC Company 77 @MobilePizzaUnit on @TinyOrangesOC! http://wp.me/p1MmcT-2ju "– 1 ENTRY
7. Subscribe to my Tiny Oranges email updates – 1 ENTRY
GOOD LUCK!
*Event date subject to availability and must be used by 10/31/12.
[Disclosure: We received this pizza preview complimentary to help facilitate this review and this is a sponsored post to help spread the word to OC families about their party services. All my opinions are my 100% honest ones and I am thrilled to spread the word about this amazing company!!]
You Might Also Like