by jen
Ivy Gate Farm for OC Horse Riding Lessons + Training Programs
Thursday October 20, 2011
see more by
jen

One of the things I love about my job is the fact that I get to learn about new things all the time.  Before this article, I didn't know one thing about the equestrian world in OC, so when Ivy Gate Farm inquired about becoming a sponsor on Tiny Oranges, I thought what a unique place to be able to share with my readers!
I don't know about you, but if my child exhibited an interest in horses and I wanted to sign her up for horse riding lessons, I wouldn't know where to go.
That's why I am very excited to introduce you to the fabulous Ivy Gate Farm nestled in the foothills of San Juan Capistrano, a family-oriented boutique farm offering riding lessons and training for those with a passion for horses.
I had the opportunity to visit in person last week and I was really looking forward to it because I had never been to a horse stable before.
Only a few minutes off the 5 freeway (and close to the 73 toll road), when I pulled into the parking lot at Tar Farms where they are located, it was like walking into another serene world.  And very friendly one!  Every person I saw walking around said, "Hello" and asked if they could help show me around. I felt like I was a part of the family already.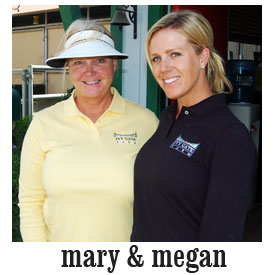 Speaking of family, I had the opportunity to meet with both Mary Morrison (owner and head trainer) along with Megan Murphy (assistant trainer and barn manager) two of the three trainers at Ivy Gate. Mary, Megan and Cristin (the third trainer) have all worked together for 17 + years and have been together so long they said they are like a family.
Megan started training at Ivy Gate when she was only seven years old.
They were both just delightful people and their passion for Ivy Gate Farm and their animals radiated from every pore of their being!
Catering to all levels, from beginning riders who have never been on a horse before, to more experienced riders looking for training, they work with each person to customize an Ivy Gate Farm program to fit your goals.
The youngest age they recommend starting at is around six years old, but they said it depends on the child's individual attention span and coordination.
One of the things I loved is that they told me they will be honest with parents if their child isn't ready yet.  They recommend starting with a package of five lessons, and said it is easy to tell right away if a child has "it" – meaning the special passion and love for horses that it takes.
For children, they explained the kids learn so much from the sport, because it is one that requires dedication and tremendous responsibility.
They also mentioned that they have many families that ride with them and that there are many moms that come to ride in the mornings when their children are in school and then the children come in the afternoons after school.
[Photo: Ivy Gate Farm]
All riders at Ivy Gate Farm benefit from the beautiful, private arena. For beginners and those getting to know the sport, they have lesson horses available, then horse leases if you determine it is something you want to continue.
For those that want to make the commitment, they also offer horses for sale. Mary has over 30 + years experience and is known in the industry to be one of the top scouts for importing young horse talent that have gone on to become national award winning show horses.
On the topic of horse shows, Ivy Gate Farm participates in all different levels of horse shows, from participation in the local Orange County Horse Show Association shows up to national level shows, so there are opportunities for all different levels of riders if you are interested.
[Photos: Ivy Gate Farm]
I also learned they also are involved in a program called the Interscholastic Equestrian League which is an organization that promotes the sport as an interscholastic team sport for K – 12th graders. Did you know some schools offer credit for your child's involvement and kids now can even "letter" in equestrian sports?  Isn't that cool?  I had no idea!
They told me many parents also love the fact that there are also college scholarships available and many colleges now have riding teams.
I was so thoroughly impressed with this organization, because their farm goes beyond horse riding lessons. With an emphasis on SAFETY, they believe success breeds success, so they always want to ensure you or your child are as safe as possible when riding.  Mary also offer clinics 3 – 4 times a year on horsemanship skills so that you can learn about the animal and understand the fundamental care of these beautiful creatures.
They told me it's an addictive sport.  When I pressed to explain how, Mary said it is all because of the joy one gets from the close bond you develop with the horses.
As Megan explained, "No matter what kind of day you are having, when you get out on your horse, they will make it all better."
If you are looking for a quiet, private and extremely unintimidating environment to explore the sport for hobby or for competition training, Ivy Gate Farm is a wonderful place to help you on your journey.
They encourage you to set up an appointment to come and take a tour, or to come by on a Saturday when many children are out riding to see what it is all about.  Call prior to coming to make sure they will be there at 949.443.1903.
You can also email ivygatefarm@hotmail.com for more information.
[Disclosure: Ivy Gate Farm is a Tiny Oranges Sponsor. Special thanks to Mary and Megan for the fun tour.  They also might have talked me into taking my first horse riding lesson soon.  Stay tuned…]
You Might Also Like