by jen
Ceramic Baby Handprint + Footprint Plate Giveaway!
Tuesday October 25, 2011
see more by
jen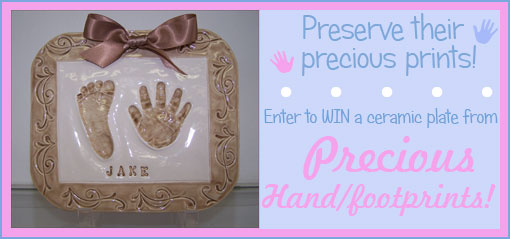 Precious Hand/Footprints, a ceramic impression company that makes priceless handprints and footprints of your little ones here in Orange County, is giving away $75 to be used towards a special keepsake! Please read below on how you can enter to win. She is also doing a special event in Orange County on December 3rd, 2011. More details below.
Elsie Holdridge, the owner and ceramist of Precious Hand/Footprints has been making ceramic impression plates for families in OC since 1991, so this year marks her 20th anniversary. Isn't that fabulous?
Elsie's prices are so reasonable for her beautiful work, and when you visit her studio, she will work with you to help you choose a perfect design. She will even customize one if you want to add together elements from different ones on display.
Impressions are done by appointment only and take approximately 15 minutes.  You can call  949-364-3659 to make an appointment.
These make great holiday gifts, and I adore her Christmas tree ornaments. If you are wanting to get something made for the holidays, the deadline is November 1st, so call to see if you can get in this week if you want to try to get a plate done for the holidays.
Special Impression Event coming up!
Elsie is having a special event next month on December 3rd, 2011 at Smocking Birds in the OC Mart Mix. Perfect reason to visit! If you missed my last post on how AWESOME this hip shopping center is, click here to read more.
The event will take place from 10am – 3pm.  No appointments are necessary at the event, you can stop by anytime between those hours to get your little one's prints done! At the event Elsie will be raffling off another giveaway and with any Smocking Birds purchase on the event date, 12/3, you will receive 15% off your ceramic plate order.  Yippee!
Hooray! It's a Tiny Giveaway!
One lucky winner will receive $75 to be used towards impressions with Precious Hand/Footprints!
Contest runs through Friday, October 28th, 2011 at 5pm PST.
Please leave a separate comment for each entry.
Winner will be selected at random from the comments entered and winner will be notified via email, so please leave your email address in the email field (won't be published.)
Entry options! Leave me a separate comment for each one!
1. Click HERE to visit the Precious Hand/Footprints site and tell me which design is your fave! – 1 entry
2. [Like] Precious Handfootprints on Facebook! – 1 entry
3. [Like] Tiny Oranges on Facebook! – 1 entry
4. Follow @TinyOrangesOC on Twitter – 1 entry
5. Subscribe to Tiny Oranges email updates – 1 entry
www.precioushandfootprints.com
GOOD LUCK!
[Disclosure: Precious Hand/Footprints is a Tiny Oranges Sponsor]
You Might Also Like