by jen
Tina Steinberg Personalized Fingerprint Jewelry [+ Giveaway!]
Wednesday October 26, 2011
see more by
jen

When I saw that image above on www.tinasteinberg.com I almost exclaimed "Be still my beating heart!"  Did you look closely?  Those are actual fingerprints on the charms!
Tina Steinberg's personalized fingerprint jewelry can be found in the Love Touch Collection on her website – beautiful sterling silver charms and pendants with your loved one's fingerprint and a little inscription on the back.  Swoon. Can you think of a better holiday gift for the moms in your life? I think not.
So it's your lucky day as Tina is giving away a gift certificate for $100 to one lucky winner.  She is also offering free shipping for the next week, through 11/2/11 with coupon code "tinyoranges!"
I am sure you are thinking, like I did, how does the fingerprinting process work?
As I found out on her FAQ page, the whole process is done by mail.
Once you place your order you will receive a fingerprint kit in the mail that is to be used within 30 days.  You will use the kit to make the print you want. You should order about a month before you would like to receive the piece, because if you do your prints and return as soon as you get it, the whole process takes around 30 days from start to finish.  She also recommends babies be at least 6 months of age for optimal prints.
Tina will also be in Orange County in Newport Beach on December 2nd, 2011 for a school fundraiser and doing prints on that day if you would like to schedule time in person. She also travels for group appointments. Please call 951.595.2006 or email info@tinasteinberg.com for more info.
Wouldn't this piece be fabulous for a mama?  Keep a gift certificate in mind for baby and new mom gifts.  Oh, SO sweet…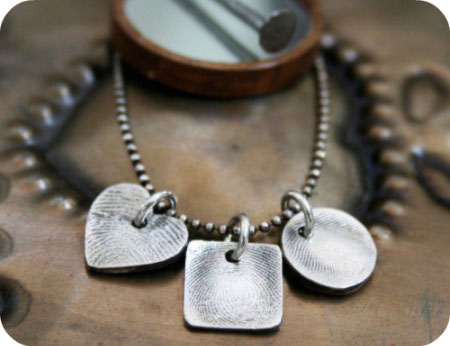 In addition to her fingerprint jewelry, Tina also showcases unique Luscious Lockets, which hold your choice of personalized charms inside beautiful recycled glass lockets.
From fingerprints, to lockets to inspirational pieces filled with compelling life themes like, "I am not afraid, I was born to do this" (don't you love?!) to amazing custom pieces like the one in the main graphic above,  in all of her work you will find hints of her self-proclaimed old soul creating each unique piece with simplicity, in the most unordinary way.
Hooray! It's a Tiny Giveaway!
One lucky winner (US residents only) will win a $100 gift certificate to use to shop on www.tinasteinberg.com.
Contest runs through 11/9/11 at 5pm PST.  Winner will be selected at random and contacted via email, so please make sure to leave your email in the email comment field (won't be published.)
To enter, please leave a separate comment for each entry option in order for it to count.
Entry options!
1. Simply comment and tell me your favorite piece. Click here to visit her amazing shop. – 1 ENTRY
2. [Like] Tina Steinberg Designs on Facebook – 1 ENTRY
3. [Like] Tiny Oranges on Facebook! – 1 entry
4. Follow @TinyOrangesOC on Twitter – 1 entry
5. Follow @TinaSteinberg on Twitter – 1 entry
6. Tweet "Enter to win $100 gift certificate towards beautiful fingerprint jewelry from @TinaSteinberg on @TinyOrangesOC! http://wp.me/p1MmcT-2lB" – 1 entry
7. Sign up for Tina Steinberg Designs email newsletter – 1 entry
8. Subscribe to Tiny Oranges email updates – 1 entry
GOOD LUCK!
[Disclosure: This is a sponsored giveaway. One that I am thrilled to host! All photos taken from www.tinasteinberg.com.]
You Might Also Like