by jen
Seared Chicken Breast topped with Olive Tapenade & Goat Cheese
Tuesday November 8, 2011
see more by
jen

Here is another fabulous weeknight recipe from Your Sus Chef (aka Susanne my lovely Tiny Oranges partner!) Sounds so yummy for an easy weeknight dinner and love her ideas for what you can do with the leftovers.  Here is what she writes…
Seared Chicken Breast topped with Olive Tapenade & Goat Cheese
This way of preparing chicken breast is a great basic/quick preparation to make a delish, moist chicken breast for so many different types of meals!
If you have left over, serve this olive tapenade with crackers, your fave cheese + almonds for a fancy cheese platter, over some heirloom tomatoes + fresh mozzarella for an amazing salad or liven up your fave sandwich by spreading a little on your bread.
Chicken Breast
* 4 Boneless Skinless Chicken Breast, rinsed & patted dry
* S + P
* Extra Virgin Olive Oil (EVOO)
Olive Tapenade
* 1/2 lb pitted mixed olives (from a fresh olive bar or jarred, not canned)
* 1 anchovy filet, rinsed (simply omit if you don't like)
* 1 small garlic clove, minced
* 1 1/2 tablespoon capers
* 3 fresh basil leaves
* 1 tablespoon freshly squeezed lemon juice
* 2 tablespoons EVOO
* 4-8oz goat cheese (depends how much you LOVE goat cheese)
To prepare the Tapenade:
Thoroughly rinse the olives in cool water. Place all ingredients in a food processor. Pulse to combine, stopping to scrape down the sides of the processor until the mixture becomes a coarse paste. No more than 1-2 mins.
(This tastes great SO many ways, feel free to have fun playing around with other fresh herbs such as flat leaf italian parsley or tarragon. Also, could be fun to throw in a few dried plums or dried apricots for a savory/sweet delight!)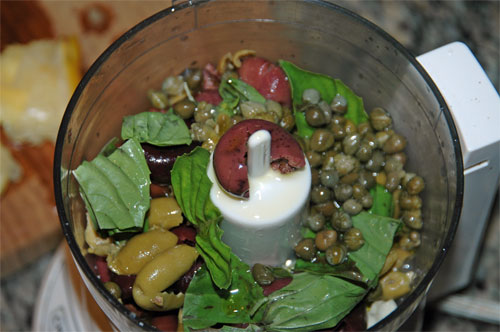 To prepare the Chicken:
* Preheat oven to 400 degrees.
* Season the chicken breasts with salt & freshly ground black pepper.
Heat skillet over medium high heat. Drizzle the pan with about 1 tablespoon EVOO. Place the seasoned chicken breast in the pan, use a large enough pan to fit all four breasts without crowding or do this first step in batches. Sear until golden, about 4-6 mins. Turn the chicken breasts on the other side & place entire pan into the oven (if you did in batches, place all the chicken breast back into pan.) The chicken should be cooked through in about 10 mins. If you have an instant read thermometer check to be sure the chicken reaches an internal temperature of 165 degrees. If you don't have an instant read thermometer cook until it is firm to the touch & juices run clear, or if you're worried you can cut in & make sure there's no pink.
Place the chicken breast on the plate & top with a few spoonfuls of tapenade & crumbled goat cheese. Enjoy!
P.S.- In a pinch, store bought tapenade will work, just not as tasty.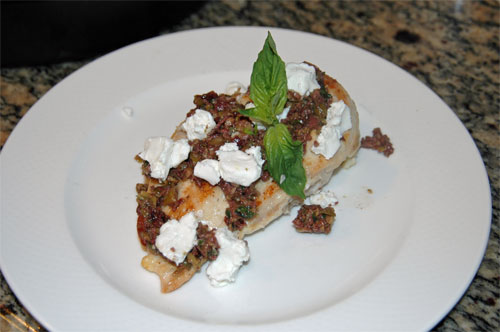 You Might Also Like