by jen
Hot Mama Jewelry Giveaway + 25% off Coupon Code!
Wednesday November 9, 2011
see more by
jen


For anyone looking for a special gift this holiday season (or all the year round), I want to share with you Hot Mama Designs, a personalized jewelry company.  With a passion for metalsmithing, Hot Mama Designs creates inspired pieces to tell stories and celebrate life.
I am excited to share a Hot Mama Jewelry giveaway with you today plus a special coupon code "tinyorangesholiday" good for 25% off everything in their shop or their sister company site Sugar Soul Studio. Code valid today through Sunday, 11/12/11 only. So order now and save big before the holidays!
I wanted to highlight a few of their unique pieces that you or a loved one is sure to treasure!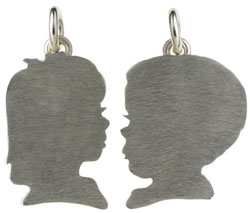 New Custom Silhouette Necklaces: These are so sweet.  Send in a photo of your loved one's face and they will cut a replica out of sterling silver. Wear one or multiple to celebrate those you love. From your husband, children, even pets, you can now wear their cute faces close to your heart!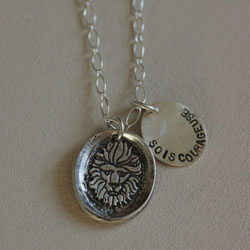 New Courage Necklace:  Know anyone who needs a little courage? The new Courage Necklace by sister company Sugar Soul Studio is the perfect piece to symbolize strength, encouragement and a "be brave" feeling.
Medallion in sterling silver with lion design cast from a reproduction wax seal of English King Richard the lion hearted. Second sterling oval disc includes the phrase "sois courageuse" which is French for "have courage."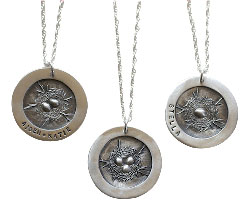 Nest Necklace: Their nest necklaces are a symbol of comfort, home and future blessings. The 1/4″ thick handmade pendant is 100% sterling silver with your choice of one, two, three, four or five eggs. Order your necklace without letter stamping for a simple, minimal look. Or choose up to 35 letters/spaces around the edge. With your choice of 16 inch, 18 inch, or 20 inch sterling twist chain.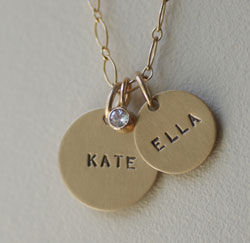 Personalized 14 Karat (The Classic Hot Mama Splurge): Elegant and classic, their14 karat gold necklace will sparkle as the new heirloom signature piece of jewelry in your collection.
This necklace includes one or more real precious faceted stones in the slide-on style. Discs are made of thick, solid 14 karat gold. Choose the number of small, medium or large discs to make your own custom design. Add optional birth dates stamped on the back for a personal touch. Discs slide freely on the chain.
Hooray! It's a  Big Big Tiny Giveaway!
Two lucky winners will each receive a $55.00 gift certificate to shop on either Hot Mama Designs or Sugar Soul Studio!
Contest open U.S. residents 18 years and older. Please leave a separate comment for each entry item!
1. Visit www.hotmamadesigns.com and leave a comment about which designs you like & how you would spend your gift card – 1 ENTRY
2. [Like] Hot Mama Designs & Sugar Soul Studio Jewelry on Facebook – 1 ENTRY
3. Blog or tweet "Enter to win a gift card to @HotMamaJewelry + a coupon code for 25% off on @TinyOrangesOC! http://tinyurl.com/HotMamaGiveaway " and include a link in your comment – 1 ENTRY
4. [Like] Tiny Oranges on Facebook – 1 ENTRY
5. Follow @TinyOrangesOC on Twitter – 1 ENTRY
6. Follow @HotMamaJewelry on Twitter – 1 ENTRY
7. Subscribe to Tiny Oranges email updates – 1 ENTRY
Contest runs through Wednesday, 11/16/11 at 5pm PST. Please leave your email in the comment field (won't be published) as I will pick winners at random and contact via email.
Good Luck!
[Disclosure: Hot Mama Designs is a Tiny Oranges Sponsor.]
You Might Also Like