by jen
The Giving Box
Friday November 18, 2011
see more by
jen


Recently I heard an awesome presentation at a moms' group I am involved in on how to raise a child that is a giver. Since we are approaching Thanksgiving I was inspired to share one of the simple ideas that my family has adopted.
It is called "The Giving Box" and what I loved most about the idea is that it encourages regular giving throughout the year and not just at the holidays. This is how it works!
The goal is to include your children in the project so that they feel like they are a part of it. The first step is to make your Giving Box.
I wanted to make it a fun project, so one day when my oldest had a friend over for a play date I got an old file box with handles, paint, and let the girls go to town decorating it.
There was something about painting a box that was particularly interesting and fun for them!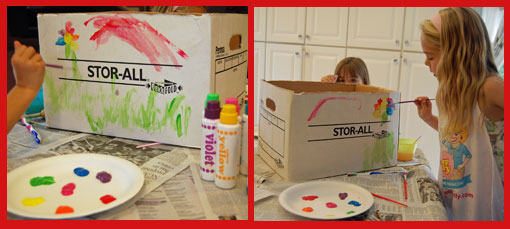 Now, once a week when we do grocery shopping, we let our kids pick out one non-perishable item for their Giving Box (with a little guidance!)
When unloading the groceries, they are responsible for taking their item and putting it in their Giving Box, which we keep in the garage.
When the box is filled up, I will take them to a local charity in need of donated food items and want to continue to do this throughout the year as we continue to fill our Giving Box.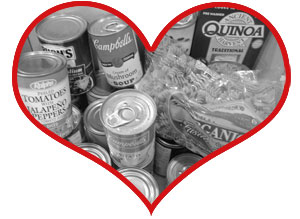 There is a local charity close to us called Share Our Selves that provides food, clothing, and emergency financial aid to the thousands of homeless and financially disadvantaged right here in Orange County. where we plan to take our Giving Box items.
Click here for more information on donations.
I know there are many local charities serving those in need in OC, so I would love for people to comment and let our readers know of charities near you that would benefit from your family's Giving Box.
Second Harvest Food Bank in Irvine is another large organization fighting to eliminate hunger in OC and takes food donations Monday – Friday 9 – 3pm. Click here for more information.
My husband and I are both running the Turkey Trot in Dana Point on Thanksgiving morning to benefit Second Harvest Food Bank. Is anyone else running this race with us?
Again I would love to hear from you! Do you have any ideas of how you teach your kids the concept of giving? Any favorite local charities you would like to share? I love the idea of this local project, as there are families right here in our own backyard that could use our help.
Have a great weekend everyone! See you back on Monday!
xoxo
You Might Also Like