by jen
Tea Collection Fashions + Giveaway
Wednesday November 30, 2011
see more by
jen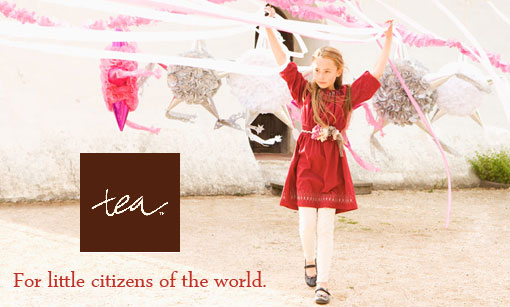 I first was introduced to Tea Collection clothing a couple years ago when my girlfriend gave us a darling little wrap dress that was a hand-me-down from her daughter.
It quickly became one of our staple pieces and my daughter wore it ALL of the time. I was very impressed with how well it held up wear after wear which is definitely the sign of a quality clothing company. You know you have a high-quality piece when a hand-me-down still looks great after going through two kids!
So recently when a representative contacted me from Tea Collection about a review and giveaway I very enthusiastically accepted because:
#1. I already know and LOVE this brand
#2. I am thrilled to get to offer one of my readers a $100 gift certificate to shop!
So, thank you Tea Collection for providing me with this ever-so-delightful post!
Tea is the only children's and women's apparel company that travels to different destinations to find inspiration behind their collections to celebrate different cultures around the globe. When you see the pieces, you will definitely see that they have a unique, global flare.
Their children's clothes are available in more than 400 stores including Bloomingdale's, Nordstrom, Saks Fifth Avenue and other fine boutiques throughout the US and abroad.
You can also find a few authorized Tea retailers in Orange County, such as Little Freebirds in Laguna Beach and Blue Windows in Long Beach.
So my little citizens of the world were sent some pieces for me to try out. The current region of inspiration is Modern Mexico.  With a mix of contemporary kitsch, Mexican folk art, embroidery and layers of florals and plaid, the look comes to life with a pop culture spirit.
What I love about Tea is that the pieces are all stylish, yet also comfortable. I absolutely refuse to dress my little ones in any clothes that are restricting because they run around too much! All of the Tea pieces are ones that they can play in – which is important when you are dressing a two and five-year-old.
I also love you have the option to buy pieces that come in wardrobe sets. Having the versatility to mix-and-match is so great!
Here are some pictures of my little ones in their new pieces.  My two-year-old was not very cooperative so my oldest had to do most of the modeling!
Here is Emma in the Skinny Cords Cargos in Eggplant with the Flying Horse Tee and her favorite sparkly pink Toms from Nordstrom. Belt is from H & M.  In the last frame is she wearing the Awesome Aura Hoodie over the Flying Horse Tee.  It's a great, lightweight hoodie for So Cal winter! We loooovvveeeee this ensemble! The cargos are so darling and have an adjustable waist.
From left to right:
Emma is wearing the Dance Party Dress which is what she wore for Thanksgiving and I am sure we will be wearing to many events in December! Red flats are from H & M.
Morgan is wearing the Latana Banded Dress and Sparkle Stripe Leggings and matching red flats to her big sis.  This was her Thanksgiving outfit as well. She has lived in these leggings. She actually said they are her "favorite" because they are "like jammies." They are incredibly soft. I want a pair in my size!
Emma is wearing the Gitana Mini Dress in Amethyst and same Sparkle Stripe Leggings (don't tell Morgan we borrowed them while she was napping!) I am going to have to buy Emma her own pair because they go with EVERYTHING. Boots are from Target last year.
Here Emma is wearing their Cornflower Paso Del Tiempo dress and Skinny Stripe Leggings in color Mole. This top was meant for Morgan in size 3, but Emma actually could wear it too with leggings.  So you truly can get a lot of wear out of all these pieces.
We love Tea!!! These would make great holiday pieces for your little ones or fabulous gift ideas!
Hooray! It's a Tiny Giveaway!
One lucky winner (U.S. Residents over age 18 only) will receive a $100 gift card to shop on Tea Collection! Contest runs through Wednesday, 12/7/11 at 5pm PST.
Please leave a separate comment for each entry option and your email address in the field under your name (won't be published.) Winner will be selected at random and contacted via email.
Entry options!
1. Simply comment below and tell me one of your favorite Tea pieces ! – 1 ENTRY
2. Fans of Tiny Oranges Facebook page and Tea Collection Facebook page will receive an entry each. So please leave a separate comment and let me know if you are a fan! – up to 2 ENTRIES
3. Follow @TeaCollection on Twitter! – 1 ENTRY
4. Follow @TinyOrangesOC on Twitter! – 1 ENTRY
5. Tweet: "I just entered to win $100 gift card to shop @TeaCollection on @TinyOrangesOC! http://wp.me/p1MmcT-2qT" – 1 ENTRY
6. Subscribe to Tiny Oranges via email or RSS – 1 ENTRY
GOOD LUCK!
[Disclosure: I received the above Tea Collection pieces complimentary to help facilitate this review. My opinions are 100% my honest and genuine ones. I love this brand and you will too!]
You Might Also Like