by jen
The Smurfs™ Holiday Gift Set Giveaway!
Friday December 2, 2011
see more by
jen

Growing up I was not much of a cartoon watcher, but the one cartoon I never missed on Saturday mornings was The Smurfs™. So when the Sony Pictures Animation film, The Smurfs™, came out this year it made me very nostalgic and happy my little ones could now enjoy these cute little blue creatures too!
Exciting news, The Smurfs™ is now available (starting today) on Blu-ray™ 3D, DVD, digital, and also a limited edition 3-Disc Holiday Gift Set which includes Blu-ray™ + DVD + a new mini-movie, The Smurfs: A Christmas Carol DVD just in time for the holidays. Such a great holiday gift idea.
As luck would have it, thanks to the super sweet folks over at Sony, I have one of these Holiday Gift Sets and a few other Smurf-alicious goodies to give away, so please make sure to enter below.
The film is about the Smurfs™ adventures when the evil wizard Gargamel chases the tiny blue Smurfs™ out of their village and into a whole new world (ours!) smack into the middle of Central Park.
The movie stars Neil Patrick Harris, Jayma Mays, Sofia Vergara, Hank Azaria as Gargamel and Katy Perry as Smurfette. Once stuck in the Big Apple, the Smurfs™ must find their way home before Gargamel finds them.
Interactive Bonus Options
With this release today, viewers will be treated to new interactive bonus options geared towards our ever-evolving electronic capabilities.
Smurf-O-Vision: Second Screen Experience
Kids and adults alike will be wow-ed with a brand new, special feature that transforms the movie-watching experience by allowing viewers to explore specially created content synced to their iPad®, iPhone®, or iPod Touch®.
This cool app allows users to interact with The Smurfs™ Blu-ray™ by simply downloading the new Smurf-O-Vision: Second Screen Experience app onto a "second screen" device (an iPad®, iPhone® or iPod Touch®) and syncing it to the movie using easy on-screen instructions.
Once connected, Smurfs will appear on their television, as well as their second screen, to sing, dance and do all kinds of things! Kids will be able to engage and explore fun activities like popping bubbles and balloons, playing with Azrael, opening Jokey's present, zapping Gargamel, and more.
Get it free here. I am totally downloading this app for my kids!
The Smurfs™ Village Game's new Holiday Quest
The Smurfs™: A Christmas Carol is being integrated into the ever-so-popular Smurfs™ Village app (available for free in the Apple App Store and Android Marketplace).
There are a variety of fun holiday-themed quests for kids such as helping Brainy Smurf grow blackberries for holiday Smurfberry Nog and helping the village build a SnowSmurf.
Collect and Share Smurfs with GoldRun
Parents and kids can have great fun seeing themselves alongside a virtual Smurf with this new app from GoldRun.
Download it free from the Apple App Store, open the Smurfs experience, and take a photo to see yourself standing next to all your favorite Smurf characters, sharable on Facebook, Twitter and Tumblr!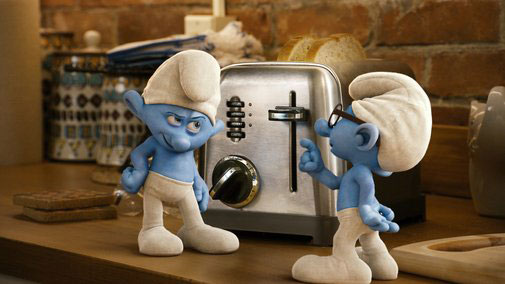 Hooray! It's a Tiny (blue) Giveaway!
One lucky reader will receive the 3-Disc Smurfs™ Holiday Gift set! To enter, please leave a separate comment for each entry option below. Contest open to US residents age 18 and older and will run through Sunday, 12/11/11 at 8pm PST.
1. Simply comment and tell me your favorite Smurfs™ character! – 1 ENTRY
2. Fans of Smurf Happens and Tiny Oranges on facebook will receive an entry. Please comment and tell me if you are a fan (and leave a separate comment for each) – up to 2 ENTRIES
3. Follow @SmurfsMovie on Twitter – 1 ENTRY
4. Follow @TinyOrangesOC on Twitter – 1 ENTRY
5. Tweet: "Enter to win #TheSmurfs 3-Disc Holiday Gift Set from @SmurfsMovie on @TinyOrangesOC! http://wp.me/p1MmcT-2uG"- 1 ENTRY
6. Subscribe to Tiny Oranges via RSS or email – 1 ENTRY
Winner will be selected at random and contacted via email.
GOOD LUCK!
Have a fabulous weekend everyone!
[Disclosure: I will be receiving a complimentary Holiday Gift Set. Soooo excited to share it with my kids over the holidays!]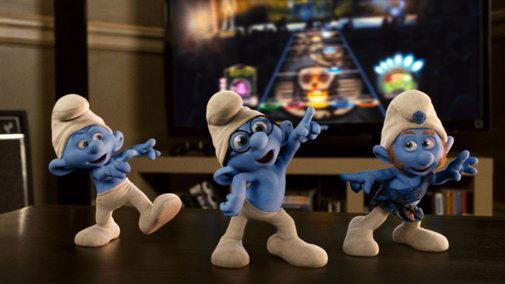 You Might Also Like