by jen
Fashion Camp OC: Winter Break Camp
Monday December 12, 2011
see more by
jen

Does your child have a passion for fashion? A fashionista in the making? Well, then do I have the place for her!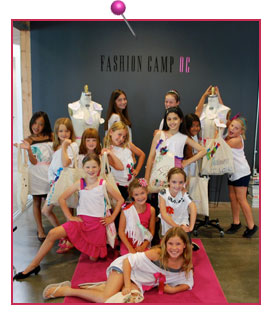 Fashion Camp OC is a unique hands-on learning experience outside of the classroom for those interested in fashion and design.
They offer classes, birthday parties, private parties and week long camps in their unique space in The OC Mart MIX.  We heart the MIX big time.
Their Winter Break Camp coming up this month so I wanted to share the details.  If you register this WEEK, by 12/17/11, you can get 15% off the Winter Camp price with promo code "Tiny Oranges"! Wouldn't this make a great holiday gift idea?
When I went to The OC Mart MIX for the first time a couple months ago, we saw the Fashion Camp OC facility and met the owner, Erin Bianchi.
While speaking with Erin, her love for fashion and teaching was so evident. I loved that while the camps are focused on the skill of design and fashion, there is also an emphasis on confidence and learning how to express yourself and your unique personality through fashion.
For young girls, I think this is so important! Even though my little girl is too
young now, I keep thinking how much she would LOVE this camp. Someday…

The week long camps are centered all around fashion. The kids have an opportunity to design their own accessories, use a sewing machine, create garments, sketch fashion designs, learn to hand sew and more.  Um, do they have a camp for 37 year olds? I could use some of these skills! Wait, I just read that they DO offer adult sewing classes! Hmmm….I might have to put this down as a goal for 2012.
But I digress!
Here are the Winter Break Camp Details, please note that the camp fee includes all materials.
Kids ages 7 – 9:
5 Day Camp for $295
12/19 – 12/23 9am – 12pm and/or 12/26 – 12/30 9am – 12pm
Tweens ages 10 – 12:
5 Day Camp for $295
12/19 – 12/23 1pm – 4pm and/or 12/26 – 12/30 1pm – 4pm
Style School for teens ages 13 – 17:
3 Day Camp for $195
12/27  – 12/29 from 5 – 8pm
You can sign up online by clicking HERE.  Visit www.FashionCampOC.com for more information and stay up to date with the latest by following Fashion Camp OC on facebook.
[Disclosure: This is a sponsored post by Fashion Camp OC to spread the word about their fabulous company and upcoming camps!]
You Might Also Like