by jen
Pure Fitness OC Personal Training
Tuesday January 3, 2012
see more by
jen

I had to kick this week off with a post about getting in shape, because I know this mama had one too many sugar cookies over the last month. Boo. But it is a new month and a new year and there is no time like the present to get in shape and feel your very best.
Have you ever wished you could have a personal trainer to kick your boo-tay into shape, but has the price been out of budget?
Would you love to have the benefit of working with a personal trainer but NOT pay personal training prices?
If the answer to the above is YES! YES! YES! you are going to flip over what Pure Fitness OC in Lake Forest has to offer.
What they do at Pure Fitness OC is refreshingly different.
Here's why: Each person is getting affordable personal training, it is just in a group setting.
How it works:
When a client signs up, you pay a $99 initiation fee (however they are waiving this fee for Tiny Oranges readers thru 1/31/12 – woo hoo!) and then you get 3 private one-on-one sessions where a personal trainer does all your testing, including: postural
analysis, core test, FMS (Functional Movement Screen) body fat testing and measurements along with base line testing.
In these sessions, your trainer will then work with you to go over proper form and technique, and yes, you will also be getting a work out at the same time.
After the initial 3 private one-on-ones, you can then pick whether you want to sign up for unlimited sessions for the month ($179-225 per month depending on length of contract) or you can purchase a 10 pack of sessions for $220.
Once signed up, you can then choose to come in anytime during their open hours (call for hours.) This gives you the  luxury of having the flexibility to work around the times that work best for you.
Then every time you walk in to work out you will be working with a trainer on your program, but in a group session.
That trainer might be training 5 other people at the same time, but literally each person is doing an individual workout designed for them, keeping in mind their health history, any injuries and their goals.
Important for the OC moms! They do not offer child care, but they are a very kid-friendly place and they do have a play area for babies and toddlers. It is a great option for those whose little ones have a hard time separating and going to a typical gym day care because the  kiddos can see mom working out.
Also, given her extensive background in physical therapy, owner and head trainer Natalie, explained to me that they also offer neuromuscular massage and trigger point therapy, which is done with clothes on and can be 10-20 minutes long without an additional charge.
So if your back is tight, you can loosen it up before you workout, or if a hamstring become tight after a workout, you have the option to get it loose before your leave the studio for maximum recovery.
She is truly committed to helping her clients reach their full potential. 
Pure Fitness OC also offers a few regularly scheduled classes, like yoga and two weekly outdoor sessions. These are inclusive in the clients membership in addition to a free prenatal class on Tuesdays from 930-10 am. FREE.
So mamas-to-be (and Natalie is expecting baby #2 herself), head on over to check it out without obligation, and you can hopefully find a training spot to help get you into your pre-baby body after the little one arrives.
If you are a person that dislikes (= hates) the traditional gym, this type of facility might be a perfect place for you!
Offering varied workouts to keep you excited about working out, a group setting where you can enjoy the support and camaraderie of others, a non-intimidating environment where you are welcome to bring your kids, Pure Fitness is there to help you reach your goals!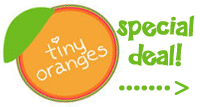 Make 2012 YOUR year to get in shape and feel great!
Pure Fitness OC has been kind enough to waive the normal initiation fee of $99 for Tiny Oranges readers, along with 1/2 off January and February dues with a 6 or 12-month contract through 1/31/12,  so make sure to tell them Tiny Oranges sent ya if you call!
Pure Fitness OC
22821 Lake Forest Dr Suite 114
Lake Forest Ca 92630
949-916-3558
www.PureFitnessOC.com * Follow Pure Sports Fitness and Therapy on Facebook * Follow on Twitter @PureFitnessOC
[Disclosure: This is a sponsored post to help spread the word to local OC mamas!]
You Might Also Like