by jen
Abiding Savior Lutheran School and Preschool Open House
Thursday January 19, 2012
see more by
jen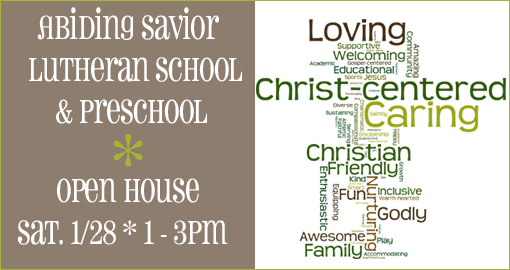 Abiding Savior Lutheran School and Preschool in Lake Forest is having a special Open House event this month on Saturday, January 28th, 2012 from 1 – 3pm and I wanted to share the details in case anyone happens to be looking for a fabulous private Christian school in South Orange County.
The school has preschool (including extended care), Junior Kindergarten, Kindergarten, and Grades 1st – 8th.
At the Open House, you will have the opportunity to meet the teachers, see the classrooms, learn about the curriculum and schedules, check out their Junior Kindergarten program, and truly get a feel for the school.
As a bonus, special discounts will be available for new families that enroll that attend the Open House! Inquire for details!
And yes, your children are welcome to attend!
When asked to describe Abiding Savior Lutheran School and Preschool, the most used words listed by the students, faculty and staff were:
* Christ-centered…in addition to instruction in the Christian faith, students attend weekly chapel services.
* Welcoming…they continually welcome new families as well as international students.
* Educational…in addition to providing a strong academic foundation and faith development, they offer many programs that have been eliminated in local public schools.
* Nurturing…to fill the needs of the community, they offer school-age extended care with flexible hours and the school is a place where students are cared for in a loving environment.
* Family…dedicated and loving teachers consider Abiding Savior like an extended family and parents have the opportunity to get involved with their Parent-Teacher League.
* Caring…by reaching out to others locally and abroad through school-wide service projects and chapel offerings, the students are able to learn about generosity and helping those in need.
* Awesome…from winning sports teams, to field trips and camps, and a long-held tradition of the eighth grade banquet, their special events make awesome memories for students and parents alike.
Abiding Savior Lutheran Church and School is located at 23262 El Toro Road in Lake Forest.
Visit www.AbidingSavior.com or call 949.830.1461 for more information or to set up a private tour.
[Disclosure: Abiding Savior is a Tiny Oranges Sponsor. All photos provided by Abiding Savior.]
You Might Also Like