by jen
Knocked-Up Fitness Prenatal DVD's [Giveaway + Launch Party!]
Thursday January 26, 2012
see more by
jen

For all my pregnant mamas, new mamas, someday might be pregnant mamas, or just want to get in shape mamas, I am thrilled to share with you two amazing prenatal fitness DVD's recently released by Erica Ziel of Knocked-Up Fitness!
Prenatal Pilates-Infused Fitness
This DVD includes a new (highly effective!) method designed to keep expecting moms active and fit though all stages of pregnancy.
Erica shows moms-to-be how to strengthen and tone key muscle groups while preparing the body for labor, delivery and recovery.
The workout fuses pilates, cardio and conditioning exercises for safe and effective prenatal workouts.
You can even mix and match the 5 different workouts to form your own routine.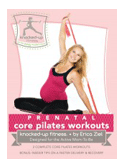 Prenatal Core Pilates Workouts
In this DVD, Erica shows moms-to-be how to strengthen deep core muscles safely.
Instead of crunches, she has designed a variety of exercises to specifically target deep core muscles and help support the weight of the baby as well as prepare the body for labor, delivery and recovery.
This workout is a unique mix of core cardio, pilates, yoga and other fitness exercises.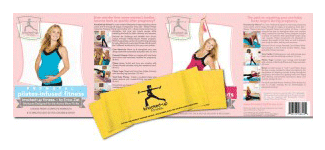 Can't decide which one to get? Get them both! Buy them as a set, and in addition to a price break, you can will also receive a free exercise band with purchase.
I trained with Erica last year and she is fabulous. Not only is she extremely knowledgable, but her workouts are crazy good!!
Even cuter, Erica herself was pregnant with baby # 3 during the filming of her videos.  As they say, it takes one to know one, so you can be assured that Erica knows exactly how it feels to do her workouts "with child!"
Click here to buy on Amazon.com and visit her website for more info (and a video) at www.Knocked-UpFitness.com.

Stop by Xpecting Maternity Boutique in Costa Mesa this Saturday, 1/28/12 from 10am – 12pm for a special DVD Launch Party and get 15% OFF at Xpecting (excluding strollers), meet Erica, enter fun raffles and more!
Click HERE to download the flyer on this event.

1 lucky winner will receive the combo set including both prenatal DVD's and exercise band! To enter, please leave a separate comment for each entry option. Here are the entry options:
Simply comment! – 1 ENTRY
Facebook fans of Tiny Oranges and Knocked Up Fitness automatically get an entry, so let us know if you are – Up to 2 ENTRIES (please leave separate comment for each)
Followers of @TinyOrangesOC and @KnockedUpFit also get an entry each! Tell us if you are followers! – Up to 2 ENTRIES (please leave separate comment for each)
Subscribe to Tiny Oranges via email or RSS – 1 ENTRY
Giveaway runs through Thursday, 2/2/12 at 5pm PST. Please leave your email address in the comment field (won't be published) so I can contact the winner when selected at random.
Good Luck!
You Might Also Like