by jen
The Beansters: Easy Sewing Kits for Kids [Giveaway!]
Tuesday May 22, 2012
see more by
jen

The Beansters creative sewing kits for kids was created by a mom who wanted a kit geared towards beginning sewers for her girls. But not just any kit, a kit with some personality, and thus the Beansters were born! Mamas, you are going to love this product, and I have both a giveaway and a coupon code to offer, so make sure to read both below.
By using felt (a more kid-friendly material), they are easy to sew with a large eyed, yet still sharp, needle and help develop the fine motor skills that go along with learning to sew.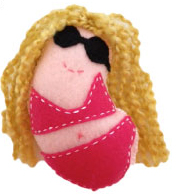 With a focus on one technique, simple organic shapes, and small projects that are quickly completed, these are the perfect kits for younger kids and their shorter attention spans.
Once their Beanster is complete, they will love the feeling of finishing a project and taking pride in their creation, which is so great for helping develop self-esteem.
As one mom happily wrote Jessica, the creator,
"Emily is still sleeping with her Just Like Me Beanster….two weeks later.  I'm going to order a few more Beansters – for her Easter basket and for when she goes to bday parties.  She LOVED it.  It is a great example something so basic being just perfect. "
Then they can also have fun sewing accessories for their Beanster or creating little bitty beans (babies!)
The kits come with everything you need for the project except for scissors.  Although geared towards kids ages 8+, they can be used with younger kids with adult supervision because of the use of a needle.
I think these would be SUCH a great activity to have on hand for the summer months when the kids could use some quiet "down time" instead of watching TV.
They are also unisex, meaning that even little boys can have fun creating them, and I am told that even some dads have confessed to loving the Beansters as well!
The price point (most are only $14 each) is a perfect fit for a great, unique birthday gift, or you can do a "Choose Any 3" kit for $34. Plus, all online purchases include FREE SHIPPING.
The Beansters are also sold at The Wee Loft in Dana Point and Toy Boat Toy Boat Toy Boat in Newport Coast.  Lookout for more retail stores being added as well!
You can enter coupon code "tinyoranges512" which is good for 20% off your entire order through 6/22/12.
Hooray! The Beansters are giving away one of their Choose Any 3 Kits to a lucky reader! Here's how to enter (it's soooo easy…)
[Disclosure: This is a sponsored post and I am thrilled to be able to spread the word on this darling product~}
You Might Also Like