by suzanne
5 Must Have Baby Items (from a second-time mom!)
Wednesday October 3, 2012
see more by
suzanne

[Photo credit: Sandy Heit Photography]
This is a guest post written by my sister, Suzanne, a new second-time mom of my three-month-old nephew Gavin. Since I have been out of the newborn world for awhile, I asked her to write about her favorite and most used baby items from a real mom currently in the trenches. Even if you aren't having another baby soon, I always love useful gift ideas for new moms!  Here is what she wrote…
"I'm sure there must be hundreds of blog posts and magazine articles with this title.
BUT…after making some unnecessary purchasing mistakes the first time around, I couldn't help wanting to share my (not so!) humble opinions on a few of my favorite baby items.
It's only been 3 years since I had my first son, and already some great new products have been introduced!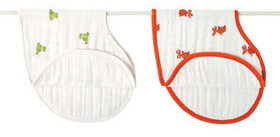 1. Aden+Anais Burpy Bibs
These have been a "must" from day one!  They are made of thick, absorbent cotton and are contoured to actually stay on your shoulder! A bit of a higher price-point for a burp cloth, but the snaps on it mean it can eventually snap around baby's neck and grow with your baby as a bib. It will be perfect for all those sweet potato and pea purees in our future!  This is a great shower gift for a new mom.
2. Boon Grass Countertop Drying Mat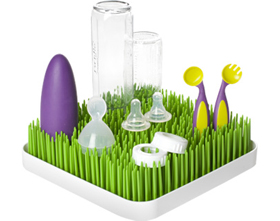 Having just remodeled our kitchen, the thought of having a bulky, plastic drying rack be an (almost!) permanent fixture on our countertop was not ideal.
This inexpensive "grass" mat is visually appealing and functional too. You can buy the "trees" separate and they work great for nipples, valves and pacifiers to hang dry from the branches.
It also works great to dry sippy cups and all the plastic items that never seem to dry in the dishwasher.
Baby-wearing has become quite a movement and I'm seeing the importance of it more with my second child. I've been known to put the baby in the Ergo while playing "pirates" with my son in our backyard!
The Ergo is great because it actually distributes the weight of your baby evenly with the additional belt around your waist. There is also an infant insert you can use for smaller babies without good neck control. It's a great product to invest in as it goes up to 40 pounds!
It's actually not that bad to put the child on your back when they are that heavy and would be a piece of cake for a strong daddy!
This is the perfect solution for traveling in the airport, as you can wear your child through security and keep your hands free. It was the ideal way to wrangle my crazy 15 month old in the hectic airport. It's worth every penny!
This was actually handed down to me from a friend after her baby outgrew it (it
goes up to 16 pounds), and it has become our favorite "baby placing" item! I
t's just the right shape and size to put him in after feeding to keep him elevated slightly and allows his legs to kick. I'm also learning with baby # 2 the importance of keeping him "safe" and off the floor or sofa in order to dodge a crazy toddler.
It's even machine washable, which we all know is a MUST for any baby item!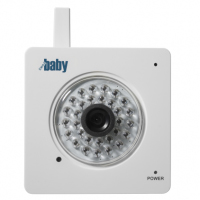 OK, this one is a bit of a splurge, but it has been my absolute favorite.
We have used our Summer Infant Slim and Secure monitor for over 3 years now and found that to be a great monitor. However, to buy an extra camera and handset (ours is not going to last us another 3 years) would run us about $200. I found the WiFi Baby on a Zulily special for $200 and figured we might as well try it out for baby #2.
It comes with a WiFi camera that you can use to view your baby through an App on iPhone, iPad or Android. I love that I can check on the baby at any point on these devices without searching for an additional handset!
It also has a "noise meter" so I can see how long the baby has been crying (or hopefully quiet!). I only have it set up now on our home WiFi (which means I can only see the camera when connected to our home WiFi), but I understand you can also set it up to view over 3G outside the home. This will be a nice feature when I go back to work after maternity leave is over (*sniff*). You can also connect up to 4 cameras, which would be ideal for families with multiple children to spy on!
I hope that was helpful to some first-time (or seasoned!) moms out there trying to navigate the world of baby gear.  Feel free to leave comments below and tell me what is YOUR must-have baby item???
You Might Also Like