by jen
Minted Custom Classroom Valentines Giveaway
Friday February 1, 2013
see more by
jen

Love is in the air this month and I am excited to share with you the SWEET custom Valentine's Day goodies over at Minted, including custom classroom Valentines!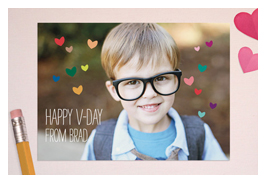 A set of 15 start at only $16. How cute would it be to give your child's classmates a custom Valentine with a personal message and even a photo? I think I am in love….
Readers can also enter this special Minted Custom Classroom Valentines Giveaway < – for a chance to win a set of custom classroom Valentines for your little sweeties.
15, yes, 15 winners will be selected, so hurry and enter as the contest ends this Sunday.
Minted is also sending a free roll of decorative Washi tape with each classroom Valentine order! Such a cute way to seal your cards with the next best thing to a kiss.
In addition to custom classroom Valentines, Minted has a variety of love-ly Valentine's Day products to check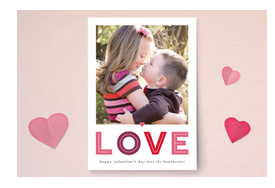 out such as customized photo Valentines to send to your family and friends.
Or, create your own greeting card, with a personalized individual Valentine starting at $5.99 for that special someone, or from your child to their daddy or grandparent. Sigh.
Shop their assortment of cute Valentines stickers and accessories to give that favor bag or Valentine a little extra love.
Minted even has a line of Valentine's Day party decor, coordinated into matching sets, including things like bunting banners, personalized table signs, scalloped stickers, party signs, paper straws, table confetti and more. I think coordinating paper products and decor really make any party just that more special.
Once again, here is the link to enter to win a set of custom classroom Valentines. I am excited for 15 of my readers to have a chance to win these because they are so super cute!
Click here -> to enter the classroom Valentines giveaway.
Have a great weekend everyone! SMOOCH! xo
[Disclosure: Minted is a Tiny Oranges Sponsor / Affiliate. And we LOVE working with them!]
You Might Also Like